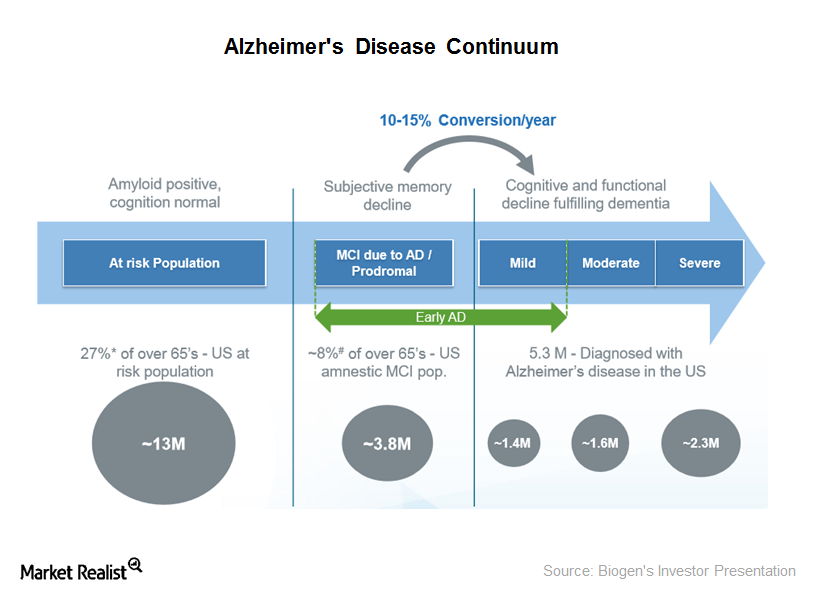 Market Cheers FDA's Fast Tracking of BIIB's Alzheimer's Treatment
Alzheimer's disease treatment
According to the NIA (National Institutes of Health), "Alzheimer's disease is an irreversible, progressive brain disorder that slowly destroys memory and thinking skills and, eventually, the ability to carry out the simplest tasks." It's currently ranked the sixth-largest cause of death in the United States. According to Alzheimer Disease International, around 5.4 million people in the United States and 44 million all over the world suffer from this disease.
Article continues below advertisement
Currently, the drugs available for Alzheimer's disease include Pfizer's (PFE) Aricept, Allergan's (AGN) Namenda, and Novartis's (NVS) Exelon. But these drugs target the symptoms of the disease, not the cause. The disease is believed to be caused by the accumulation of substances called amyloid plaques in the brain. Biogen's (BIIB) aducanumab is a drug under development that might help reduce the brain plaques. Aducanumab could be the first-ever drug for the causal treatment of Alzheimer's disease.
FDA fast tracks Aducanumab
The U.S. Food and Drug Administration (or FDA) recently awarded the fast track status to aducanumab following the positive results of Biogen's pre-clinical research and phase 1B study results of the European Medicine Agency's (or EMA) PRIME (PRIority Medicines) program. The FDA's fast track status is assigned to "investigational drugs for expedited review to facilitate the development of drugs which treat a serious or life-threatening condition and fill an unmet medical need." Biogen's stock price rose by more than 3% following the news on September 1, 2016. The iShares Nasdaq Biotechnology ETF (IBB) gained approximately 0.1%.
Biogen has already started enrolling subjects for the phase 3 studies, ENGAGE and EMERGE, for the safety and efficacy of the drug aducanumab in early Alzheimer's disease patients. The positive phase 1 study data supports the phase III studies.
To learn more about the Aducanumab study, read What Will Be a Key Driver of Biogen's Future Valuations?
Next, we'll discuss what's behind the recent Biogen buyout rumors.