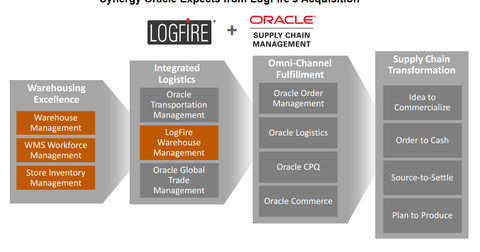 A Look into Oracle's Cloud Strategy to Chase Growth
By Anne Shields

Sep. 12 2016, Updated 3:04 p.m. ET
Oracle strengthens its expertise
Given its recent acquisition of LogFire—and its interest in boosting its SCM (supply chain management) cloud offerings—Oracle (ORCL) appears to be targeting a specific segment within the cloud. The SCM space is a key ingredient of enterprise software.
The below presentation shows how Oracle's SCM cloud capabilities would be enhanced by the acquisition and integration of LogFire.

In August 2016, Oracle announced its $1-billion acquisition of Netsuite, which should give it a major boost in cloud space and also access to the SMB space, which is attracting a lot of attention because it's relatively untapped.
Article continues below advertisement
In May 2016, Oracle announced the acquisition of Opower (OPWR), a cloud service software provider, to boost up its position in the utility space. Prior to the acquisition of Opower (OPWR), Oracle announced the acquisition of Textura (TXTR), which provides cloud-based payment management services and sells billing software to enhance the capabilities of its product management software Primavera as well as boost the company's reach in the engineering and construction sector.
Crosswise and AddThis were acquired in 2016 to augment the company's position in the data cloud and marketing cloud spaces.
IBM's focus on healthcare space and Watson
Oracle is not the only company that has targeted a specific segment within the cloud to record growth. IBM has chosen the healthcare data and analytics space and has invested billions of dollars in machine learning and AI (artificial intelligence) through partnerships and acquisitions to develop its Watson platform. IBM has also acquired Merge Healthcare, Truven, AlchemyAPI, Phytel, and Explorys to boost Watson Health Cloud's capabilities.
Watson Health Cloud, which launched in April 2015, is an open source platform that enables care providers and researchers to share and analyze health data.
To enhance the chances of Watson's success in the healthcare space, IBM has also announced partnerships with Apple (AAPL), Johnson & Johnson (JNJ), and Medtronic (MDT) in an effort to leverage the information gathered from personal health devices.
In the next part, we'll take a closer look at Oracle's acquisition rationale.