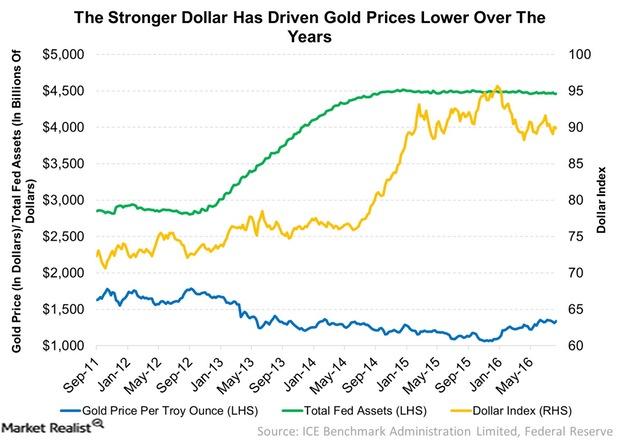 Jackson Hole: An Important Takeaway and What It Means for Gold
Yellen Channels Doobie Brothers' "What Were Once Vices Are Now Habits"
Another aspect of Janet Yellen's Jackson Hole speech furthered our conviction for strong gold prices in the long term. She described all of the unconventional monetary policies implemented since the financial crisis (e.g., zero rates, QE, etc.) as components of the Fed's "toolkit". Perhaps she is a fan of the 1974 Doobie Brothers classic song "What Were Once Vices are Now Habits". These once radical monetary tools are now considered conventional, and she plans to use them in the future if deemed necessary. She also suggested the Fed may follow the examples set forth by the European Central Bank, Swiss National Bank, Bank of England, and Bank of Japan by purchasing corporate debt and/or equities as part of stimulus measures. Ms. Yellen virtually guarantees that the policies that we believe are creating asset bubbles, wealth disparities, and other market dislocations will persist indefinitely. If these fail to generate the desired growth, "helicopter money" (printing money to give directly to the U.S. Department of the Treasury) might be the next experiment. The potential risks and currency debasement that generally accompany these policies could stand to be supportive of the gold price for the foreseeable future.
Article continues below advertisement
Article continues below advertisement
Market Realist – An important takeaway from Jackson Hole
While the Fed's balance sheet was bloated while it undertook QE (quantitative easing), which leads to a weaker dollar, the weakness in the other developed economies stabilized the dollar index (UUP), as the graph above shows.
However, as the Fed ended the QE program, other major central banks began theirs. This policy divergence led to a stronger dollar. The stronger dollar led to a slump in gold (DGL)(OUNZ) prices. Since gold is priced in dollars, the strengthening of the dollar negatively affects gold. The correlation between gold and the dollar has been -0.78 over the last five years.
Now that Yellen has put QE back on the table and the dollar could become stable to weak, gold prices could remain high. In the next part, we'll discuss another factor that could keep gold prices elevated in the short term.