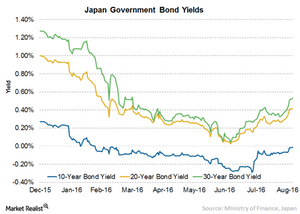 Hunting for Yield: Looking beyond Japan
2. Negative yields
Japan is the largest accessible bond market in Asia (source: Barclays Multiverse Index as of 7/29/16), but the problem is the yields for many local bonds are negative. The Bank of Japan (BOJ), in an aggressive quantitative easing campaign, has not only set short-term interest rates at -0.10% but also has bought back bonds to drive prices up and yields down. As a result, yields on government bonds with maturities of 10 years or less are negative, according to Bloomberg data. Japan does not present much of a yield opportunity right now.
Article continues below advertisement
Market Realist – Japan doesn't present much of a yield opportunity
The Bank of Japan has pumped substantial money into the market and cut rates to negative in order to increase consumer spending and kickstart the economy (EWJ)(HEWJ) to a higher growth trajectory. In January, the central bank cut rate on certain deposits held by commercial banks to -0.1% for the first time in history. Plus, the central bank also announced annual bond buying worth $786 billion to inject more money into the economy.
In the subsequent months, yields on government bonds (IGOV) started plunging sharply. While the 20-year yield dipped below zero for the first time in history in July, the 30-year yield dropped as low as 0.015% and the ten-year yield hit a record low of -0.275%. With falling yields, Japan is the largest country in the world with a huge amount of bonds trading at negative yields. Negative-yielding Japanese bonds comprised almost 65% or $7.9 trillion of total global negative-yielding debts.
The BoJ (Bank of Japan) is expected to ease monetary policy further as a strong yen and sluggish economy (SCJ) are likely to keep inflation much lower than the targeted level of 2%. Already the BoJ is one of the largest holders of Japanese (DFJ) government bonds. However, interest rates are unlikely to fall further because of the negative impact on banks' profits and consumer sentiment. At such a low yield, Japan doesn't offer much attractive yield opportunity.