How TNT Acquisition Is Driving FedEx's European Growth
On May 25, 2016, FedEx (FDX) completed the 4.4 billion euro acquisition of the Netherlands-based TNT Express NV.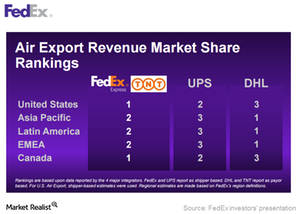 FedEx acquired TNT Express
On May 25, 2016, FedEx (FDX) completed the 4.4 billion euro acquisition of the Netherlands-based TNT Express NV. FDX wanted to expand its international footprint to challenge long-time contender United Parcel Service (UPS) outside the US.
Article continues below advertisement
Article continues below advertisement
FedEx's growth in Europe
TNT has a niche in industrial, automotive, high-tech, and healthcare industries. Plus, it has operations in over 61 countries. The company's road network in Europe connects 41 countries through 19 hubs and more than 540 depots. Two-thirds of TNT's revenues are generated in Europe. According to TNT, the domestic European market is worth 6.0 billion euros, and the international European market is worth 15.0 billion euros.
After the integration, the FDX-TNT entity is expected to have the largest share in the US and Canada's air export revenue market ahead of UPS and DHL. The entity will likely be in the second spot in terms of air export revenue market share in Latin America, Asia-Pacific, and EMEA (Europe, the Middle East, and Africa).
FedEx may also gain on a cost front by utilizing TNT's lower cost of operations at its Liege hub in Belgium. However, FDX has its own hub at Charles de Gaulle in Paris. However, the industrial disputes in France might get in the way of the company's smooth European operations through that pivot. In addition, the Liege hub is also at the territorial center of a prominent business triangle between London, Frankfurt, and Milan. Plus, TNT also has a sizeable domestic market share in the UK, Spain, Benelux, and Italy.
Though FedEx didn't shed much light on TNT's impact on fiscal 2017 in the 4Q16 earnings conference, investors' expectations are high for the 1Q17 earnings conference on that front.
Article continues below advertisement
Other major acquisitions in the industry
FDX's TNT deal is expected to be a great boost to its European ambitions. However, others have also expanded their businesses. Before FDX's TNT acquisition, UPS acquired Coyote Logistics in 2015. In the same year, XPO Logistics (XPO), another major logistics company, acquired Norbert Dentressangle in Europe for $3.5 billion. This deal is poised to hugely improve XPO's European capacity.
Investing in ETFs
Investors interested in the transportation space can consider the iShares US Industrials ETF (IYJ). This ETF holds 4.3% of its holdings in major US courier companies. Prominent US railroads (CSX) and airlines (DAL) make up 5.6% and 4.8% of the portfolio holdings of IYJ.
Keep on reading to learn about FDX management's expectations.