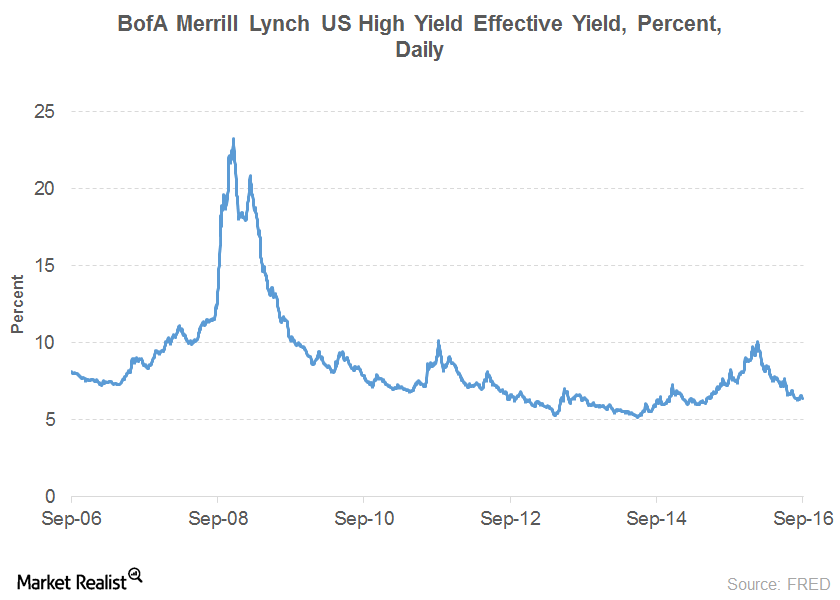 High-Yield Bonds Are Turning Out to Be the Real Winners
Another interesting trend has been the interest in high yield bonds. Flows have been positive, but not as strong as other bond sectors. I think many investors may still feel tentative about the high yield market in the wake of the volatility in energy-related bonds earlier this year.
Article continues below advertisement
Market Realist –High-yield bonds were a hit with investors
High-yield or junk bonds are the next-best category of bonds after investment-grade bonds. High-yield bonds gained popularity due to higher yields compared to Treasury bonds, whose yields were being pushed down by the Fed's interest rate policy. Yields offered by junk bonds are gradually falling with their rising demand.
The iShares iBoxx $ High Yield Corporate Bond ETF (HYG) and the SPDR Barclays High Yield Bond ETF (JNK) lost $2.5 billion in aggregate before the Fed's September meeting due to concerns over a potential hike in interest rates.
Below are some year-to-date returns for ETFs: