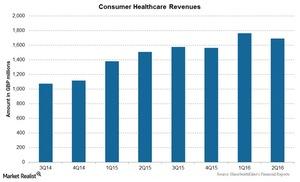 GSK Optimistic about Future of Its Consumer Healthcare Segment
Consumer healthcare segment
With improvements in the supply chain and the successful launch of new products, GlaxoSmithKline (GSK) is optimistic about its consumer healthcare segment performance. Apart from the new products, the company has improved its supply management to avoid the issues faced in European markets during 2014.
This segment reported growth of 7% at constant exchange rates to 1.7 billion pounds during 2Q16, following the strong performance of Sensodyne, Voltaren, Otrivin, and Theraflu, as a part of a joint venture with Novartis (NVS).
Article continues below advertisement
Article continues below advertisement
Consumer healthcare performance
The consumer healthcare segment achieved growth of 9% in the US markets during 2Q16, followed by the strong performance of Flonase, new products under the Sensodyne brand, and Theraflu. Flonase is a nasal spray for allergies and competes with Sanofi's (SNY) Nasacort, while Sensodyne is a leading brand of oral healthcare products by GSK. Theraflu is used to treat the common cold and flu.
For the Europe markets, the growth was 1% during 2Q16, driven by strong performance of Voltaren and Sensodyne. Voltaren is a nonsteroidal anti-inflammatory drug used in the treatment of pain or inflammation caused by arthritis or spondylitis. Voltaren has similar products like Depomed's (DEPO) Zipsor, Iroko Pharmaceutical's Zorvolex, and Hospira's Dyloject.
International revenues reported growth of 9% to 757 million pounds during 2Q16, driven by growth in oral health products including Sensodyne True White, and wellness products including Voltaren.
Investors can consider ETFs like the PowerShares International Dividend Achievers ETF (PID), which holds 2.4% of its total assets in GlaxoSmithKline, 1.5% in Sanofi (SNY), and 1.1% in Novartis (NVS).