What Are GoPro's Key Content Partnerships?
In June 2016, GoPro announced its partnership with Ford, wherein the two companies will develop an original series called Unstoppable Life.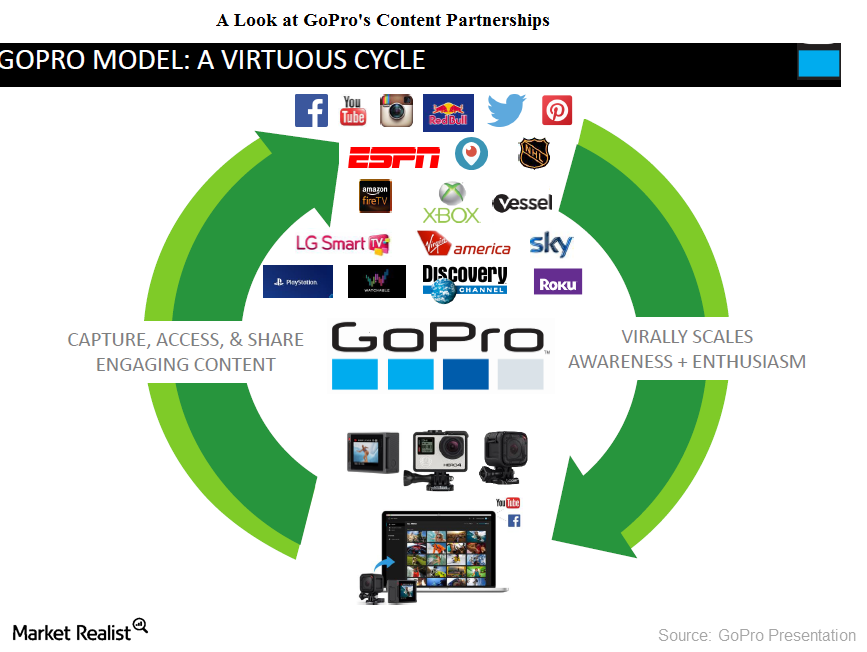 GoPro partnered with Ford, Wimbledon, and Real Madrid
GoPro (GPRO) noted that it has partnered with some of the world's most prominent brands in order to create "original episodic content." The company has partnered with Ford (F), Wimbledon, and football club Real Madrid to engage audiences with fascinating stories.
In June 2016, GoPro announced its partnership with Ford to develop Unstoppable Life, an original series. GoPro stated that the series will profile GoPro athletes, showcasing their skills and determination.
GoPro noted that among the athletes featured in the series is Aaron Chase, a free ride mountain biker who came back from a life-altering injury.
"Fans of GoPro and Ford are experience seekers continually looking for ways to broaden their lives," said Ocean MacAdams, head of GoPro Entertainment. "We're excited to join forces with Ford to further inspire consumers around the world."
Article continues below advertisement
Article continues below advertisement
The GoPro Awards
GoPro Awards is another of the company's entertainment initiatives that can generate cash rewards for customers for exceptional photos and videos.
The GoPro Awards was launched in October 2015 and so far, the event has generated more than 22 million views on YouTube (GOOG) (GOOGL). In 2Q16, two GoPro Awards events exceeded 1 million views, and one of them went viral and generated more than 5 million views. Additionally, two GoPro videos ranked in the top five on Google's brand Leaderboard in May 2016.