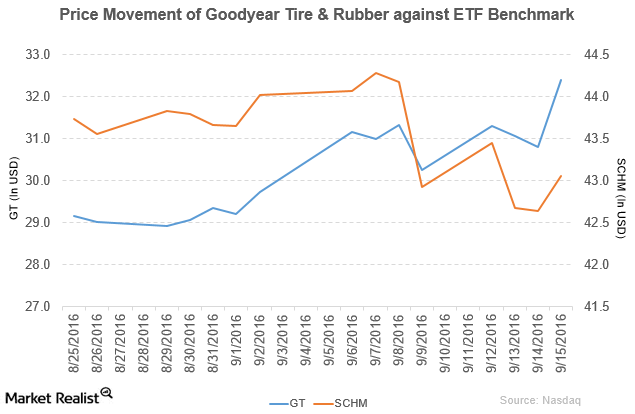 Goodyear Tire & Rubber's Financial Targets and Quarterly Dividend
Price movement
Goodyear Tire & Rubber Company (GT) has a market cap of $8.8 billion. It rose 5.1% and closed at $32.39 per share on September 15, 2016. The stock's weekly, monthly, and YTD (year-to-date) price movements were 3.4%, 12.3%, and -0.14%, respectively, on the same day. The company is trading 8.6% above its 20-day moving average, 13.8% above its 50-day moving average, and 9.9% above its 200-day moving average.
Article continues below advertisement
Article continues below advertisement
Related ETFs and peers
The Schwab US Mid-Cap ETF (SCHM) invests 0.27% of its holdings in Goodyear Tire. SCHM tracks a market-cap-weighted index of mid-cap stocks in the Dow Jones US Total Stock Market Index. SCHM's YTD price movement was 8.2% on September 15.
The SPDR S&P 500 ETF (SPY) invests 0.04% of its holdings in Goodyear Tires. SPY tracks a market-cap-weighted index of US large and mid-cap stocks selected by the S&P Committee.
The market caps of Goodyear Tire's competitors are as follows:
Performance in 2Q16
Goodyear reported 2Q16 net sales of $3.9 billion—a fall of 7.1% from its net sales of $4.2 billion in 2Q15. The company's cost of goods sold as a percentage of net sales rose 0.51% between 2Q15 and 2Q16.
Its net income and EPS (earnings per share) rose to $202.0 million and $0.75, respectively, in 2Q16—compared to $192.0 million and $0.70, respectively, in 2Q15. It reported adjusted EPS of $1.16 in 2Q16—a rise of 38.1% over 2Q15.
Goodyear Tire's cash and cash equivalents fell by 22.9% and its inventories rose by 9.0% between 4Q15 and 2Q16. Its current ratio rose to 1.4x and its debt-to-equity ratio fell to 2.8x in 2Q16—compared to 1.2x and 3.0x, respectively, in 4Q15.
Article continues below advertisement
Projections
The company reaffirmed its projections for 2016:
core segment operating income growth of 10%–15%, excluding Venezuela
positive free cash flow from operations
adjusted debt-to-earnings before interest, tax, depreciation, amortization, and pension income multiple of 2.0x–2.1x at the end of the year
Goodyear announced its following financial targets:
annual segment operating income of $3.0 billion in 2020
cumulative free cash flow of $4.3 billion–$4.9 billion from 2017 to 2020
The company also reported, "Goodyear also updated its capital allocation plan that includes growth capital expenditures, restructuring, debt repayment and a shareholder return program of up to $4 billion."
Goodyear declared dividend
Goodyear Tire & Rubber Company declared a quarterly dividend of $0.10 per share—a rise of 43%—on its common stock. The dividend will be paid on December 1, 2016, to shareholders of record on November 1, 2016.
In the next part, we'll look at GoPro (GPRO).