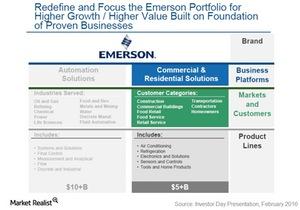 What Are Emerson Electric's Core Business Areas?
Emerson Electric's business segments
This is the second series in our company overview of Emerson Electric (EMR), a global manufacturer of electrical (XLI) and electromechanical products. In our first series, we analyzed Emerson's history of returning excess returns over its cost of capital. Although the trend was volatile, we found that Emerson's historical ROIC (return on invested capital) was at least 3% higher than its cost of capital every year over a 15-year period.
Article continues below advertisement
Article continues below advertisement
The company has recently realigned its business after finding buyers for its telecom-based (IYZ) Network Power segment in August 2016. Emerson based this decision on the rationale of becoming a more focused enterprise. Since the transaction is expected to close by December 2016, the company is likely to report financials of the segment for the year ending September 30, 2016.
In its current form, Emerson operates its businesses under five segments: Process Management, Industrial Automation, Climate Technologies, Commercial & Residential Solutions, and Network Power. The segments represented 37%, 18%, 18%, 8%, and 19%, respectively, of company's sales in fiscal 2015.
Since the Network Power segment is due to be divested, we've excluded it from our analysis. Rockwell Automation (ROK), Parker Hannifin (PH), and Honeywell Process Solutions (HON) are some of Emerson's key competitors.
On August 18, 2016, Emerson announced that it signed an agreement to acquire Pentair's (PNR) valves and controls business. To make our analysis more current, we've included our view on this acquisition in the next part of this series.
Core business platforms of Emerson Electric
In terms of platforms, Emerson classifies its business into two core areas: Automation Solutions and Commercial & Residential Solutions. Automation Solutions generated $10.1 billion, or 45.3% of total revenues, in fiscal 2015. The Process Management segment represented 85% of the Automation Solutions business. The Appleton, Asco, and Branson businesses of the Industrial Automation segment accounted for the remaining 15%.
The Commercial & Residential platform generated $5.3 billion in fiscal 2015, representing 23.8% of total sales. The remaining businesses of Industrial Automation, Climate Technologies, and Commercial & Residential Solutions were part of this platform.
In this series, we'll be looking at Process Management in the context of the Pentair acquired business and the Emerson existing business. We've thus included the Pentair acquisition in the next part before looking at Emerson Process Management.