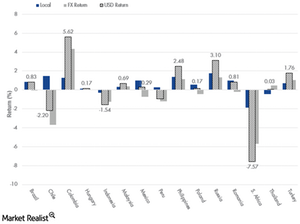 Is Emerging Market Debt Immune to Rate Hikes?
By VanEck

Sep. 27 2016, Updated 10:05 a.m. ET
The Supportive Market Environment
In the short run, investors are likely to continue to focus on Fed action and the potential impact of a rate increase on the U.S. dollar. Despite these concerns, we feel the overall conditions remain supportive for emerging markets debt. Emerging markets yields continue to be attractive to investors looking beyond the low and negative rates available from most developed markets core fixed income asset classes.
71-Month Total Returns by Country
Source: FactSet as of 8/31/2016.
Article continues below advertisement
Market Realist – Fed's status quo provides a stimulus to emerging market bonds
The Federal Reserve kept its key interest rate unchanged in its policy meeting this week while signaling a possible rate hike in December.
In defending its decision, the Federal Open Market Committee said, "Although the unemployment rate is little changed in recent months, job gains have been solid, on average. Household spending has been growing strongly but business fixed investment has remained soft."
However, the Fed has given a clear indication to the market that a December hike is in the cards. In fact, three dissenters wanted the Fed to raise its key rate at this policy meeting. This was the first time there'd been any disagreement in the Fed's decision since Janet Yellen became the Fed chair in February 2015. Most earlier decisions were consensus decisions.
Article continues below advertisement
Positive for emerging market bonds
The Fed's current status quo on the rate hike is certainly a big positive for emerging market bonds (EMLC) (HYEM). Despite the uncertainty surrounding a rate hike in December, emerging market debt is expected to see sustained demand in the last quarter of the year.
Rock-bottom yields in developed markets (IHY) should ensure higher fund flows to emerging market debt (EMB) (PCY) from investors seeking higher yields. In fact, the lack of competitive yields in developed markets remains a strong impetus to investors looking for high yield opportunities in emerging markets.