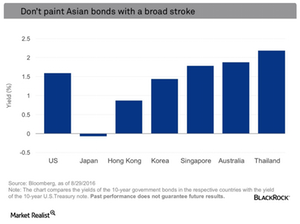 Diminishing Opportunities in Asia: What You Need to Know
By Matt Tucker, CFA

Sep. 26 2016, Updated 4:04 p.m. ET
3. Everyone else
The balance of countries in Asia present more interesting opportunities. To better focus our discussion, I'll concentrate on investment grade markets. As shown in the chart below, government bond yields in Australia, Singapore, Hong Kong, Korea and Thailand are positive (source: Bloomberg as of 8/29/16). But even among these positive yielding markets, interest rates on government bonds there are low.
And, the local corporate bond markets in these countries are not very well developed, which means, unlike in the United States, there are not many opportunities outside of government securities.
Article continues below advertisement
Market Realist – Local corporate bond markets lack depth
Thailand's benchmark ten-year government bond is currently yielding 2.4% while Australia is yielding 1.9%, followed by Singapore (1.8%) and South Korea (1.5%). This yield starkly contrasts with a very low or even negative yield on developed countries' ten-year bonds. Currently, German ten-year bond yields -0.05% while Japan yields -0.01% and the United Kingdom yields 0.71%. But though many of these Asian economies yield more than developed markets, they're not much higher than the yield offered by the same maturity of US bonds (AGG), with the exception of Thailand and Australia.
With weak economies, interest rates in these countries are seeing declining trends, just like developed countries (IGOV)(IAGG). In August, the Reserve Bank of Australia lowered the cash rate to a record low of 1.5%, the second rate cut this year. The benchmark interest rate in South Korea is at a record low of 1.25% while in Thailand it's at 1.5% and in Singapore it's at 0.37%. Hong Kong is the only country that raised its benchmark interest rate by 25 basis points to 0.75% in December last year.
The local corporate bond market in these countries is very small compared to major developed markets. The market size of the Australian corporate bond market is around $250 billion while Singapore's market size is around $350 billion. But some countries, like Australia, have established bond markets and regulatory and tax issues have held up their development.