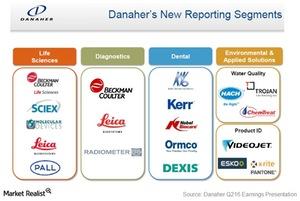 Digging around to Find Drivers in Danaher's Environmental Segment
Danaher's Environmental & Applied Solutions
Excluding the Fortive (FTV) businesses, Danaher's (DHR) Environmental & Applied Solutions (or EAS) segment represented 25% of company's sales in 2015, or $3.5 billion in value terms. The EAS segment consists of two units: water quality and product identification.
The water quality business provides instruments and disinfection systems for analyzing, treating, and managing the quality of water used for several applications. Professionals in municipal drinking water and wastewater treatment plants, industrial (IYJ) wastewater treatment facilities, and testing laboratories are some of the major customers of the water quality unit.
Article continues below advertisement
Article continues below advertisement
Danaher entered the product identification space through the acquisition of Videojet in 2002, and expanded its presence later by acquiring Willet International in 2003, Linx Printing Technologies in 2005, EskoArtwork in 2011, and X-Rite in 2012. Under the product identification business, the company provides equipment for printing bar and lot codes on products or packages. It also provides software and digital finishing systems for packaging, signs, and displays. Dover (DOV) is one of Danaher's major competitors in this business.
Key drivers in the environmental segment
The demand for water quality and product identification equipment is being driven by regulatory requirements. Product identification solutions play a key role in protecting the integrity of products and mitigate concerns about counterfeiting and the tracking and tracing of products. Some of these requirements are stipulated by the FDA and consumers rely on them as a matter of safety, especially for pharmaceutical (PJP) and food products. The demand for instruments in the water quality business is gaining traction due to a focus on water infrastructure, particularly important in light of incidents such as the Flint water crisis. Around 55% of water quality sales and 40% of product identification sales are recurring.