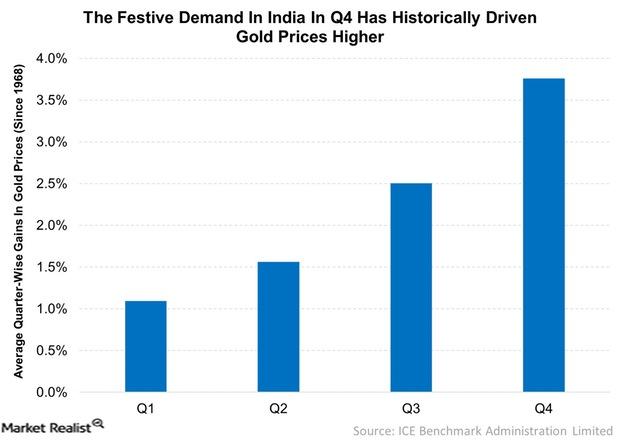 Demand from India Could Lend Support to the Gold Market
Demand from India Could Lend Support
In the near term, India could lend support to the gold market. Indian gold demand has been very weak this year due mainly to the higher gold price. This suggests there is pent-up demand. A good monsoon season in India can lead to a bountiful fall harvest that typically spurs demand ahead of the Diwali Festival in October.
Our June update highlighted a new bull trend in the gold price. The base of that trend is currently around $1,290 per ounce. If this price level holds through September, it would be a further sign of resilience in the gold market. A lower gold price, while disappointing, would indicate a new trendline with a lower trajectory. In the longer term, we regard the recent Fed machinations as just a bump in the road of a new bull market for gold.
Article continues below advertisement
Market Realist – The festive season in India could support the gold markets
The graph above shows the average gains in gold (DGL)(OUNZ)(IAU) prices over each quarter since 1968. As you can see, gold prices rise the most in Q4. On average, gold prices have gained 3.8% in Q4. A major factor behind this rise is the festive demand in India.
India is a major market for gold, driven by its demand for jewelry. The Indian demand for gold spikes in Q4, as Indians buy jewelry during Diwali, a festival that typically takes place in late October or November. As we enter the last quarter of the year, the festive demand is likely to keep gold prices elevated. Even if the Fed hikes rates in September, gold prices are likely to bounce back in Q4, on the back of the demand in India.