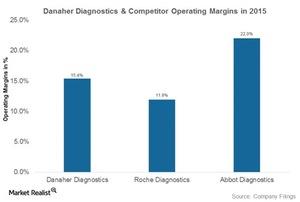 How Danaher Diagnostics Fares against Its Competition
Diagnostics: Sales
Danaher's (DHR) diagnostics segment, its largest, generated about 33.5% of the separated Danaher in 2015. In dollar terms, this amounted to $4.8 billion. However, after closing the acquisition of Pall, which was then integrated into the Life Sciences unit, the Diagnostics segment became the second-largest unit. In 1H16, the segment generated about 29.3% of total company revenues and achieved a core organic growth of about 2%.
Article continues below advertisement
Article continues below advertisement
Diagnostics: Margin comparison
The Diagnostics unit posts higher margins than the Life Sciences unit. The diagnostics unit had operating margins of 15.4% in 2015 and 17.2% in 1H16. Among competitors, Roche Diagnostics (RHHBY) had margins of 11.9%, 2.2%, and 11.8% in 2015, 2014, and 2013, respectively. Roche is a market leader in the diagnostics business and has a substantial share in the hematology business.
Abbott (ABT), which has a significant market share in the immunoassay market, had margins of 22%, 22.8%, and 23.2% in its diagnostics business. The company's high margins in this business are protected by intellectual property rights.
Competitive advantages
If customer switching costs were to be quantified by the amount of recurring revenues earned by a business, it could be said that the Diagnostics business has the stickiest customers among all of Danaher's segments. Roughly 80% of the segment's revenues are recurring in nature. Customers in the healthcare (IHF) setting tend to be hesitant to switch equipment suppliers due to concerns about reliability and the costs incurred in retraining its employees to use new equipment. The need to avoid downtime risk is critical in the healthcare industry (IHI), given that a patient's life may be on the line.