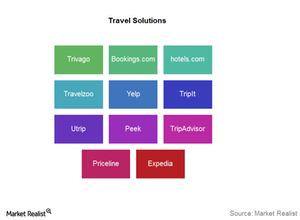 Can Google Trips Reduce Travel Stress?
By Ally Schmidt

Sep. 23 2016, Updated 10:05 a.m. ET
Vacation and stress
Vacations are supposed to reduce stress but quite often end up adding to it. Figuring out the what, when, and how of a travel plan can be tiresome. According to a study by GoodThink, "74% find the most stressful aspect of travel to be figuring out the details: travel uncertainty, transportation, wasting time figure things out on the trip, and being unfamiliar with the location."
Needless to say, if done the right way, traveling can be fun and a huge stress buster, which is what Google (GOOGL) and so many others aim to tap into.
Article continues below advertisement
Other solutions
There are many others who have tried to solve this question before, though the solutions are mostly isolated. TripAdvisor (TRIP) gives customer reviews and has recently launched its Instant Booking platform. (For a complete overview, check out the Market Realist series TripAdvisor: An Investor's Guide to the Travel Pioneer.)
Trivago, hotels.com, and Priceline's booking.com all help in hotel bookings. OTA (online travel agent) giants Priceline (PCLN) and Expedia (EXPE) offer a much more integrated booking solution, including cars, flights, hotel, vacation packages, and cruises. (For a complete overview read Market Realist's An Investor's Complete Guide to Priceline Group and An Investor's Complete Guide to Expedia.)
Others, like TripIt, are more similar to Google Trips, while there are also activity-booking start-ups, such as Seattle-based Utrip and San Francisco-based Peek.
Notably, investors can get exposure to OTAs by investing in the PowerShares NASDAQ Internet Portfolio ETF (PNQI).
How can Google Trips help?
There's certainly no shortage of travel apps. So why did Google have to launch another one? For one, Google Trips is trying to integrate most of these solutions into one app. 
In this way, the traveler doesn't have to go through the hassle of toggling between different apps, or printouts with all the travel information or different notes with saved recommendations from friends.
Having all your travel info in one place—with access to it even without access to the Internet—should reduce travel stress. But this isn't all that travelers are asking for, which is what we'll look at in the next part.