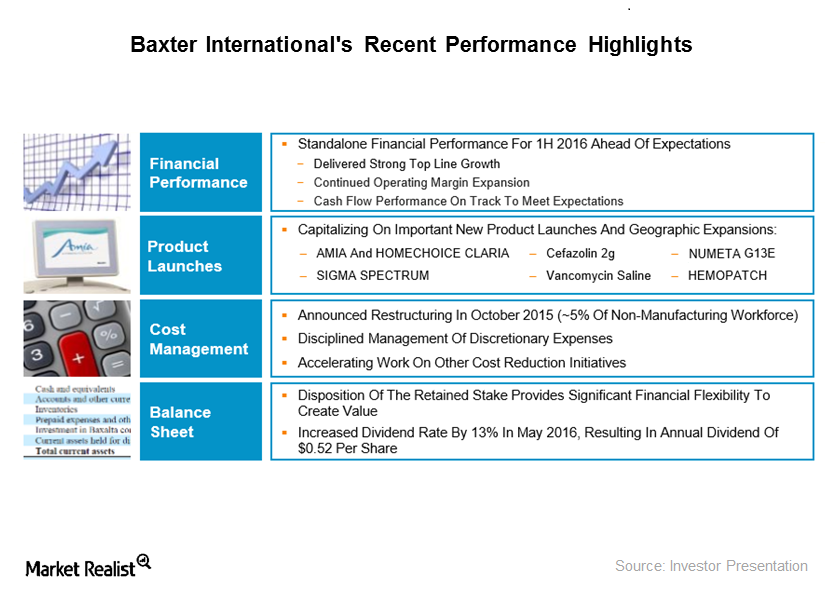 Baxter International's Recent Product Launches and Partnerships
Baxter's growth strategy
Baxter International (BAX) has been growing consistently through the following:
the addition of new and innovative products to its product portfolio
various partnerships, collaborations, mergers, and acquisitions
internal product development through research and development (or R&D)
Baxter International's R&D investments were around $150 million in 2Q16, which represents a YoY (year-over-year) increase of around 1%. In 2Q16, more than half of the company's organic growth was from Baxter International's US fluid systems. The below diagram shows the key performance highlights of the company driven by new product launches and other growth initiatives.
Article continues below advertisement
Article continues below advertisement
Peers Abbott Laboratories (ABT), CR Bard (BCR), and Becton Dickinson (BDX) invested approximately 6.5%, 7.6%, and 6.5% of their total revenues, respectively, towards R&D in their recent quarters. The Guggenheim S&P 500 Equal Weight ETF (RSP) invests approximately 0.21% of its total holdings in Baxter International.
Recent product launches
On September 19, 2016, Baxter International launched Numeta G13E, which is intravenous (or IV) nutrition for preterm newborns who are at the risk of malnutrition, in 15 western European countries including Poland, Switzerland, France, Germany, Austria, Belgium, the Netherlands, Ireland, Malta, the UK, and the Nordics. It's the only ready-to-use IV nutrition product approved in the market for preterm newborns. Baxter is working towards acquiring regulatory approvals and launching the product in the rest of Europe and in Latin America by 2017.
Article continues below advertisement
According to Baxter International, "NUMETA G13E is indicated for PN administration in preterm newborn infants when oral or enteral nutrition is not possible, insufficient or contraindicated. NUMETA G13E addresses an important medical need to support preterm neonatal patients who have acute nutritional requirements by providing a balanced formulation of amino acids (protein), glucose (carbohydrates), lipids (fats) and electrolytes in a triple-chamber system that was pioneered by Baxter."
Recent partnerships and collaborations
Baxter has entered an agreement with the Satellite Healthcare to expand the access of its dialysis care portfolio for US patients. The portfolio consists of the company's market-leading AMIA APD system with Sharesource, CRRT (Continuous Renal Replacement Therapy) products, and Revaclear high-flux dialyzer.
Next, let's discuss the company's latest dividend payment and capital allocation strategy.