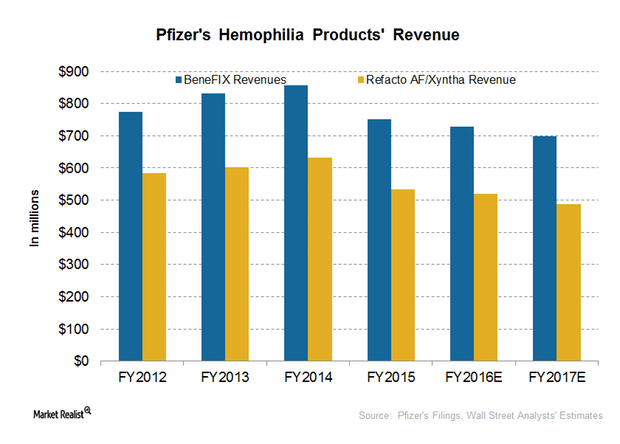 Why Are Revenues from Pfizer's Rare Disease Portfolio Falling?
Pfizer's hemophilia products
BeneFIX, the major contributor to Pfizer's (PFE) Rare Disease portfolio, is indicated for hemophilia B. During the first six months, the drug earned $367 million. BeneFIX and Refacto AF/Xyntha are the recombinant products indicated for hemophilia.
For details on the evolution of hemophilia therapy, please read The Evolution of Hemophilia Treatment—And What It Means for BioMarin.
With market share erosion in the US from new entrants that had extended half-lives, BeneFIX, the coagulation Factor IX product, recorded a 5% decline in its total revenues in 2Q16.
Wall Street analysts expect BeneFIX to generate $728 million in 2016 and $698 million in 2017. Another hemophilia drug, Refacto AF/Xyntha, is expected to earn $521 million in 2016 and $487 million in 2017.
Article continues below advertisement
Pipeline for rare diseases
In August 2016, Pfizer acquired the remaining equity in Bamboo Therapeutics to strengthen gene therapy capabilities. Through this acquisition, PFE won access to Bamboo's preclinical and clinical assets, which complement its Rare Disease portfolio. Bamboo is particularly focused on developing gene therapies for rare diseases.
With its partner Spark Therapeutics, Pfizer is developing SPK-9001, which is in its Phase 1/2 trial. Pfizer's Rare Disease pipeline holds assets such as rivipansel, PDE9 SCD, FIX Gene Therapy, and TFPI hemophilia.
To avoid the direct risk associated with the company's stock price, you can opt for the VanEck Vectors Pharmaceutical ETF (PPH). Pfizer accounts for ~4.9% of PPH's total holdings.