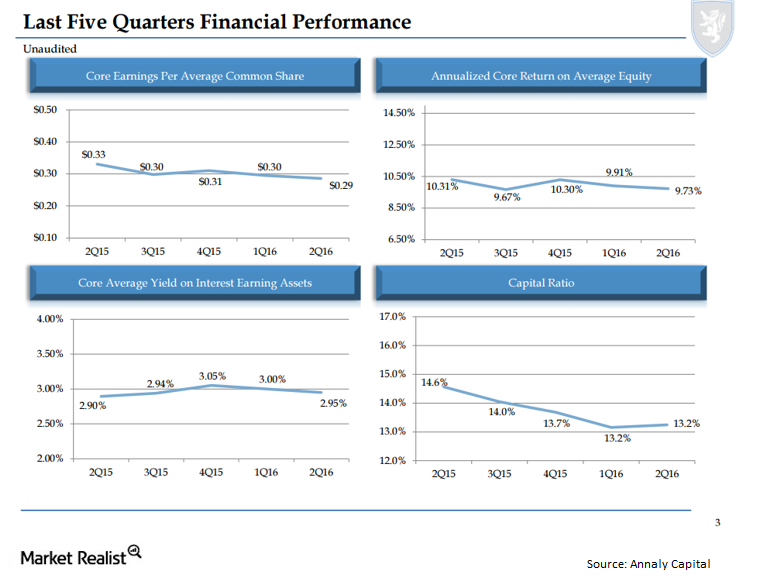 What's Annaly Capital's Take on the Bond Market's Volatility?
Management comments on 1Q16
"During heightened market volatility and amidst a difficult operating environment, Annaly continued to deliver strong performance and durable core earnings and book value," commented Kevin Keyes, Annaly Capital's CEO and president. "Our diversified platform has provided our shareholders with the most consistent core earnings over the past two years – earnings that have proven to be approximately two-thirds more stable than other industry participants."
Annaly Capital (NLY) has been positioning itself to reduce its interest rate risk and increase its credit risk. This is how you would position yourself coming out of a recession.
Article continues below advertisement
What happens when the Fed removes the support?
Since 2009, when the great monetary experiment started, global bond markets have risen in value by about $17 trillion. Global equity markets have risen by about $40 trillion. While the rise in the equity markets has been driven by improved earnings, there's no question that the unprecedented monetary stimulus out of the world's central bankers supported equities.
The bigger question is whether the Fed has engineered an unsustainable situation in asset markets that require 0% interest rates.
The outlook for interest rates is probably going to be volatile. Agency REITs like Annaly Capital Management and American Capital Agency (AGNC) are the most exposed to a churning bond market. REITs with adjustable-rate mortgage-backed securities, like MFA Financial (MFA), are a little more insulated. Finally, originators with large mortgage servicing rights portfolios, like Nationstar (NSM), might actually benefit from increasing rates.
Investors interested in making directional bets on interest rates should look at the iShares 20+ Year Treasury Bond ETF (TLT). Investors interested in trading the mortgage REIT sector as a whole should look at the iShares Mortgage Real Estate ETF (REM).