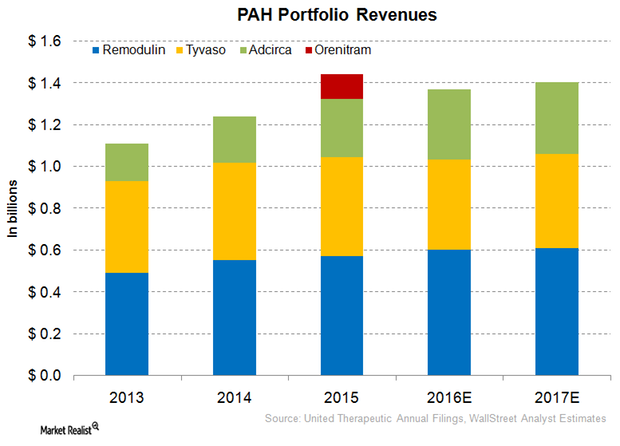 Strong Growth Projected for UTHR's Hypertension Drugs
Pulmonary arterial hypertension drugs
United Therapeutics (UTHR) has projected that in 2016, its trepostinil pulmonary arterial hypertension (or PAH) drugs Orenitram, Remodulin, and Tyvaso will benefit from patients' shifting away from Actelion Pharmaceuticals' oral PAH drug, Uptravi.
Additionally, the Ambition study has demonstrated that combination therapy involving Gilead Sciences' (GILD) Letairis and United Therapeutics' Adcirca results in similar morbidity reductions compared to those witnessed by PAH patients using Uptravi.
Article continues below advertisement
The study also showed that the combination therapy fared better than Uptravi based on a six-minute walk test. These results may lead to health insurers' requiring the use of Letairis and Adcirca before shifting patients to the costlier Uptravi. Owing to its robust PAH portfolio, United Therapeutics may pose strong competition to other PAH players such as Pfizer (PFE) and GlaxoSmithKline (GSK).
According to the Pulmonary Hypertension Association, a six-minute walk test "simply measures the distance that a patient can walk on a flat, hard surface in a period of 6 minutes. Nonetheless, the result reflects the integrated exercise response of complex physiology involving the pulmonary and cardiovascular systems, systemic and pulmonary circulations, and neuromuscular function."
Wall Street's revenue estimates
While Wall Street analysts haven't provided estimates for Orenitram's revenues in 2016 and 2017, they've provided projections for more established brands such as Remodulin, Tyvaso, and Adcirca.
Remodulin's sales are expected to rise by around 5.3% year-over-year (or YoY), from $572.8 million in 2015 to $603.4 million in 2016. The drug is further expected to earn $610.6 million in revenue in 2017, which will be a YoY rise of ~1.2%. To know more about Remodulin's growth prospects, please refer to Why United Therapeutics' Remodulin Expects to Witness Strong Growth in 2016.
Tyvaso is expected to earn revenue of around $428.1 million in 2016, a YoY fall of 8.9%, mainly due to the warehousing effect for oral PAH drugs. The drug, however, is projected to recover its sales and earn around $448.9 million in revenue in 2017. To know more about Tyvaso's growth prospects, you can read Inside United Therapeutics' Growth Plans for Tyvaso.
Adcirca is expected to benefit from the results of the Ambition study and to post a 21.1% YoY rise in revenue in 2016. Wall Street analysts have projected that the drug's sales will reach $337.7 million in 2016 and will further rise to $342.7 million in 2017. To know more about Adcirca, please refer to Why United Therapeutics' Adcirca Could Witness Strong Revenue Growth.
If United Therapeutics' PAH drugs manage to surpass these revenue projections, the company's share price could rise along with the price of the iShares Nasdaq Biotechnology ETF (IBB). United Therapeutics makes up about 0.97% of IBB's total portfolio holdings.
In the next article, we'll explore why United Therapeutics is confident in protecting Remodulin from generic erosion.