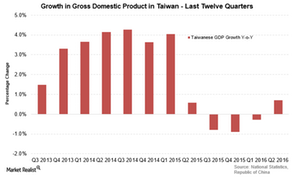 Taiwan's Economy Expands, Bank Indonesia Keeps Rates Unchanged
Taiwan's GDP expanded by 0.7%
Taiwan's economy rose by 0.7% on an annual basis in 2Q16—compared to a contraction of 0.29% in the previous quarter and slightly above estimated forecasts of an expansion of 0.69%. The GDP rose for the first time since the expansion in 2Q15. It rose at the fastest pace since 1Q15. On a quarterly basis, Taiwan's GDP grew by 0.06% in 2Q16. While investments continued to decline, exports rose by 0.63% and private consumption rose by 1.2%. The iShares MSCI Taiwan (EWT) fell by 1.6% and the iShares Asia 50 (AIA) fell by 0.51% on August 19.
Article continues below advertisement
Bank Indonesia kept interest rates unchanged
Bank Indonesia (BI) kept the repo rate unchanged at 5.3% in the monetary policy meeting on Friday. However, the lending rate was reduced by 1% to 6%. The central bank expects the growth to remain sluggish going forward. Bank Indonesia has been easing its monetary policy to boost economic growth in the wake of a slowdown in the Chinese economy since the beginning of the year. Looking at other global economies, the demand for goods in Europe has been moderate due to the Brexit vote, while the Fed is expected to remain dovish for most of the year. Bank Indonesia adopted the reverse repo rate as the benchmark rate. It replaced the previous BI rate. The iShares MSCI Indonesia (EIDO) fell by 1.1% and the iShares MSCI All Country Asia ex Japan (AAXJ) fell by 0.63% on August 19.
Fall in South Korea's producer prices slowed in July
Producer prices in South Korea fell at a slower pace by 2.4% on an annual basis in July—compared to a faster decline of 2.7% in the previous month. The cost of utilities fell by 2%, while prices of industrial goods and the services sector fell by 0.1%.
On a monthly basis, South Korea's producer price index fell by 0.1% in July—compared to a 0.2% rise in June. The iShares MSCI South Korea Capped (EWY) fell by 0.69% on August 19.