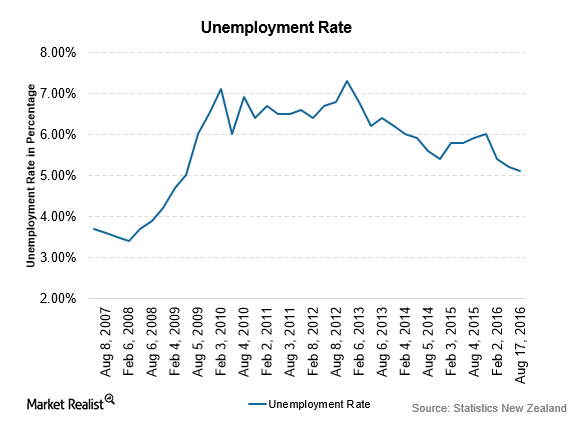 New Zealand Employment Reports Should Be Viewed with Caution
New Zealand's unemployment rate fell
Statistics New Zealand published the quarterly employment data on August 17, 2016. The second quarter unemployment rate unexpectedly fell to the lowest level since May 2009. The unemployment rate fell to 5.1%—compared to forecasts of 5.3%. It should be noted that Statistics New Zealand added the defense force personnel to the survey this time. This inadvertently resulted in a lower unemployment rate. In other changes, Statistics New Zealand also improved survey questions on undertaking paid work. This means that more self-employed people will be added to the workforce.
Given the two major changes brought about by Statistics New Zealand, markets should view this unemployment release as a benchmark for upcoming releases.
Article continues below advertisement
Article continues below advertisement
Employment change rose by 2.4%
The employment change for the quarter ending in June saw a rise of 2,460 people—a rise of 2.4% from the previous quarter. Labor force participation also rose by 0.9% to 69.7. Recently, the Reserve Bank of New Zealand cut interest rates to revive the economy. For more details on the recent central bank policy, read Exploring New Zealand's Monetary Policy and Bitcoin's Rise.
Impact on the market
The iShares MSCI Pacific Ex-Japan ETF (EPP) fell by 0.13% on August 17, 2016. The iShares MSCI Australia ETF (EWA) is another major ETF in the Oceania segment. It rose by 0.10%. Tracking the upward movement in the New Zealand dollar, the iShares MSCI New Zealand Capped ETF (ENZL) rose by 0.69% after the release of strong employment numbers.
Among the major developed Asian ADRs (American depositary receipts), Canon (CAJ) rose by 0.58%, while Kyocera (KYO) fell by 1.8% on August 17, 2016. Nomura Holdings (NMR) rose by 1.2%.