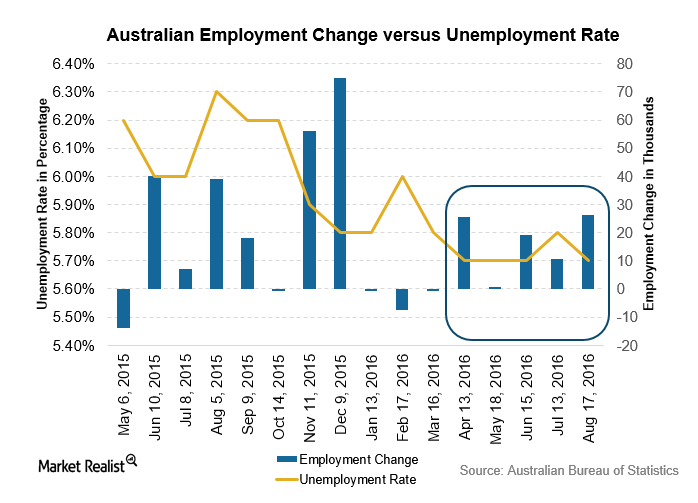 Australian Unemployment Fell: Is More Easing Needed?
Addition of 26,200 new jobs
The Australian Bureau of Statistics published the employment report for July on August 18, 2016. The report indicated a rise of 26,200 jobs—this took the total employment to 11.96 million. The rise of 71,600 jobs in part-time employment was partly offset by the fall of 45,400 jobs in full-time employment. The unemployment rate fell by 0.1% to 5.7%. The participation rate remained unchanged at 64.9%, while monthly total working hours rose by 3.7 million hours.
Article continues below advertisement
Article continues below advertisement
What to expect from the RBA?
Although the employment release looks strong from the outside, the RBA (Reserve Bank of Australia) is expected to look at the fall in full-time jobs with caution. The overall data were slightly skewed by the unusual rise in part-time jobs. This isn't expected to change the RBA's economic outlook. The RBA's dovish stance in the last monetary policy meeting is expected to continue. For more details on the rate cut during the last RBA meeting, read Australian Dollar Rose despite the RBA's Monetary Easing Measures. The Australian dollar-US dollar currency pair was trading higher by 0.48% on August 18 at 7:30 AM EST. The continued strength in the Australian dollar, despite monetary policy measures, is another reason that the positive employment release isn't expected to change the RBA's outlook.
Impact on the market
Australian ETFs were trading on a mixed bias on August 17, 2016, after the Australian employment data release. The iShares MSCI Australia Index Fund ETF (EWA) rose by 0.10%. Meanwhile, the CurrencyShares Australian Dollar Trust ETF (FXA) fell by 0.66%.
Looking at the performance of Australian ADRs (American depositary receipt) trading on US markets, BHP Billiton (BHP) posted strong gains of 1.3%. In the mining sector, British-Australian multinational Rio Tinto (RIO) fell by 0.54%. Australian banking ADR Westpac Banking (WBK) was also trading on a positive bias. It rose by 1.3% on August 17, 2016.