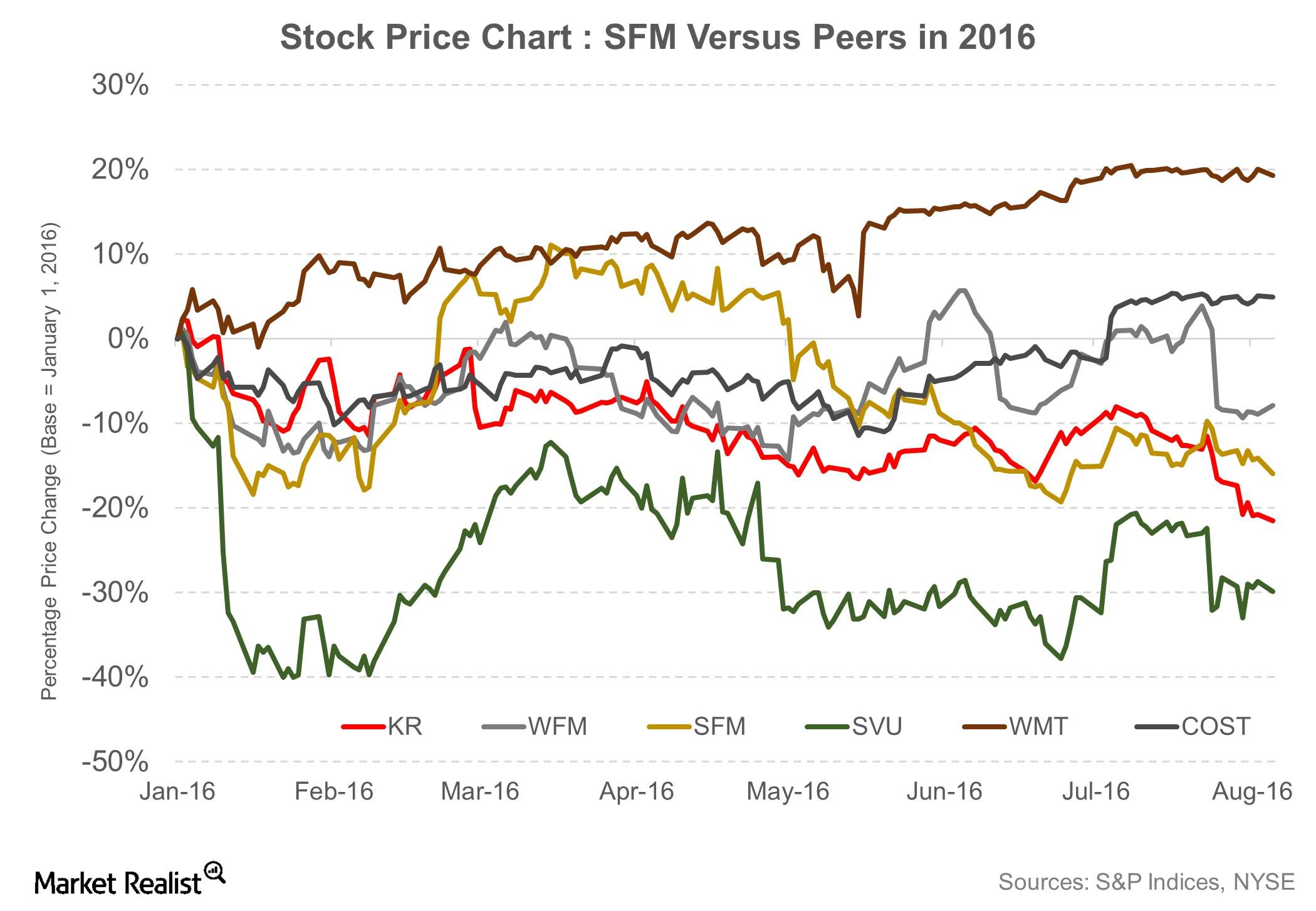 Stock Market Performance and Valuations Summary: SFM versus Peers
Comparing Sprouts Farmers Market's stock market performance to peers
The current year has been quite unrewarding for supermarket stocks as almost all big supermarkets have been in the red this year. While the stock market losses of Kroger (KR) and Supervalu (SVU) stood at 21.5% and 30% on August 8, 2016, Sprouts Farmers Market (SFM) has lost around 16% YTD. In comparison, mass merchandiser Walmart (WMT) has gained 20% YTD.
Article continues below advertisement
Wall Street view on SFM
Wall Street is positive on SFM and sees a potential for a stock price rebound. The company's stock, which traded at $22.52 on August 8, has been assigned a mean price target of $28.82. This indicates an upside of 28% to the current stock price over the next 12 months.
Ratings highlights
Macquarie has given an "outperform" recommendation on SFM with a target price of $35 over the next 12 months. This indicates an upside potential of over 55% to the stock's August 8 closing price.
On the other hand, Piper Jaffray has set a target price of $21, indicating that the research firm is expecting a fall in SFM's stock price.
Of the 18 analysts who have rated SFM, 12 have recommended a "buy," and 6 have recommended a "hold." None of the analysts have a "sell" rating on the stock.
Valuations summary
Sprouts Farmers Market is currently trading at a one-year forward price-to-earnings ratio (PE) of around 22x (on August 8, 2016), which puts it closer to the lower end of its 52-week PE range of 18.8x–27.8x.
Despite trading near the lower end of its valuations, the company continues to be one of the most expensive in its peer group. Its supermarket competitors Kroger (KR), Whole Foods Market (WFM), and Supervalu (SVU) are currently trading at 14.2x, 20.2x, and 7.4x.
Investors looking to invest in SFM through ETFs can choose to invest in the iShares S&P Mid-Cap 400 Growth ETF (IJK). SFM has a weight of approximately 0.44% in IJK.