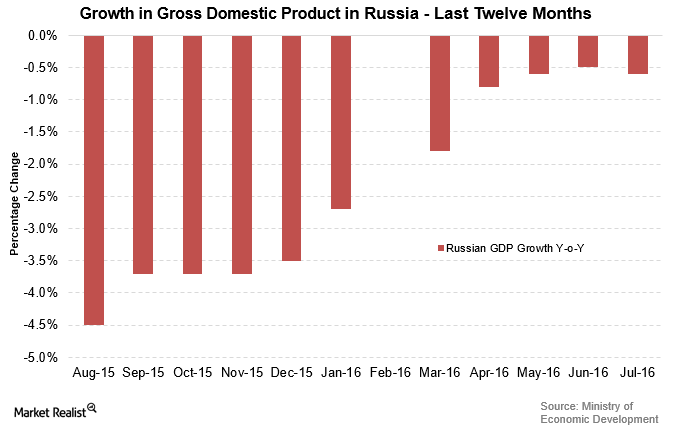 Russian GDP Continues to Fall, Taiwan's Export Orders Drop
Russian economy contracts
The Russian economy fell by 0.6% on an annual basis in July—compared to Market expectations of a 1.0% decline and lower than a decline of 0.5% in the previous month. However, the trends show a recovery in Russia's economy as the ruble strengthens versus the US dollar. Also, the US crude inventory report indicated an increase in oil demand. Russia (ERUS) (RSX) depends extensively on the export of petroleum and petroleum products. Oversupply concerns and falling demand have weighed on the sentiment in crude prices.
Russia's economic development minister, Alexei Ulyukayev, expects the Russian economy to enter an expansionary mode in 4Q16. To learn about the falling GDP in the previous month, read Russian GDP Falls before the Central Bank's Policy Meeting.
Article continues below advertisement
Taiwan's export orders fall for the 16th consecutive month
Export orders in Taiwan (EWT) continued to fall in July by 3.4% on an annual basis—compared to a 2.4% fall in the previous month. The fall was the 16th consecutive contraction in the South Asian (AAXJ) economy. It recorded the highest number of prolonged declines. The declines were recorded mainly in Japan and the US. Export shipments to China and Hong Kong exhibited modest growth of 0.7%. On the macroeconomic front, Taiwan's unemployment rate remained unchanged at 4% for July.
Hong Kong's inflation
Inflation levels in Hong Kong grew by 2.3% on an annual basis in July—slightly lower than the 2.4% rise in June and the forecast of 2.5% growth. It was the fifth consecutive drop in inflation levels in Hong Kong (EWH) due to sluggish growth in prices of private housing rentals, while clothing prices continued to drop.