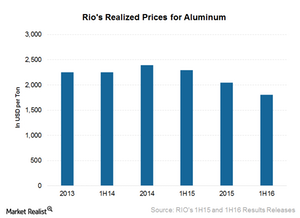 Rio's Aluminum Division Didn't Bow to Commodity Price Pressures
Aluminum prices
Rio Tinto's (RIO) Aluminum division contributed 19% of its 1H16 underlying EBITDA (or earnings before interest, tax, depreciation, and amortization). That's why it's important to understand this division's profitability, depending on its realized prices and unit costs.
While steelmaking commodities remained firm in 2016, the rebound in base metals was more muted. Rio mentioned that inventories and excess capacity led to pressure on aluminum prices. London Metal Exchange (or LME) prices traded in a narrow band of $1,500–$1,650 per ton.
Aluminum producers' earnings are sensitive to commodity prices (GCC). Companies such as Alcoa (AA), Century Aluminum (CENX), Rio Tinto, and Norsk Hydro (NHYDY) have varying sensitivities to aluminum prices.
Article continues below advertisement
Average prices are lower
The average price for LME aluminum fell by 13% year-over-year (or YoY) in 1H16 to $1,544 per ton. The market premium fell in all regions from record highs in 1H15.
RIO's average realized prices came in 21% lower YoY in 1H16 at $1,805 per ton, including a premium for value-added products (or VAP). VAP represented 53% of primary metals in 1H16.
RIO's aluminum revenue fell by 17% YoY, mainly due to the impact of lower realized prices. The impact of lower prices was offset to an extent by productivity improvements and further cost reduction efforts.
Cost reductions continue
The cash cost improvements in RIO's aluminum group were $223 million in 1H16, with the group delivering cumulative savings of $1.4 billion compared to the 2012 base.
With the expanded production of its Kitimat smelter, RIO's 80% aluminum smelters are in the first quartile of the cost curve.
Following the completion of the Kitimat smelter, Rio generated free cash flow (or FCF) of $660 million in 1H16 compared to $646 million in 1H15. This was due to strong volumes, cash costs and working capital improvements, and reduced capital expenditure.
For more on aluminum, visit Market Realist's Aluminum page.