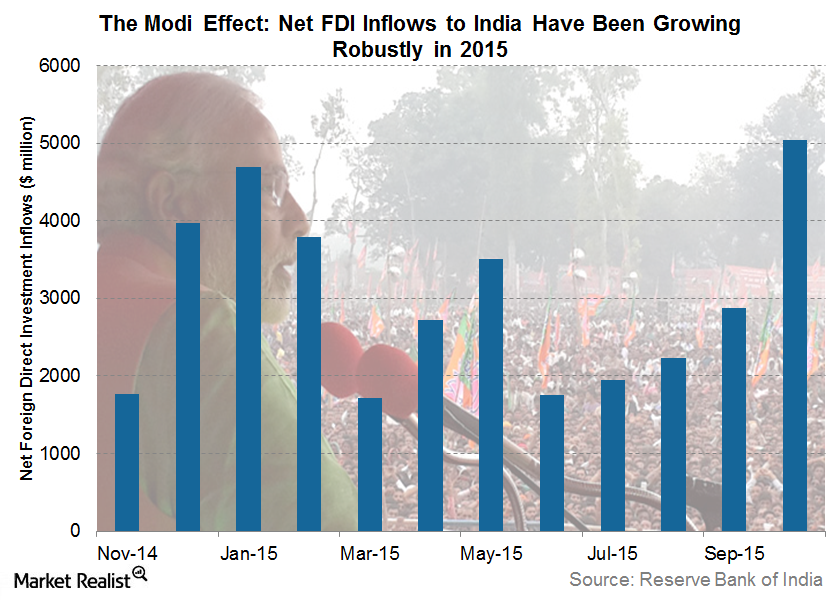 The Modi Effect: Transforming India One Step at a Time
"Earlier, it was believed that force indicates power. Now, power must come through the strength of ideas and effective dialogue." – PM Narendra Modi, 2015
Swept in by an overwhelming majority, Narendra Modi was elected as India's 15th Prime Minister in May 2014. Much like Barack Obama in the U.S. in 2008, expectations were sky-high that Modi could set his country on the path to economic success and improve its global standing. Shortly after his election, Modi announced a raft of reforms, from 'Make in India' to improving sanitation services to much fanfare and celebration. Satisfying or even exceeding the hopes and expectations of well over a billion people was always going to be an uphill battle. But Modi has done admirably well thus far.
Our trip to India reinforced our view that the seeds of significant structural changes have been sown.
Article continues below advertisement
A common perception in India is that the reform process is stalling and Modi's popularity is under pressure. This is frequently aired in the general media, but it mischaracterizes the reality. While considerable challenges remain, policymakers remain committed to addressing them. Importantly, where the government cannot find a way through a problem, it is seeking to find ways around it instead. So what are we to make of the man bearing such high hopes
and expectations?
Modi began his political career as a student activist campaigning against the ruling Congress party, before joining the opposition Bharatiya Janata Party (BJP) in 1985. He swiftly moved up the ranks, his strategy being credited as central to the BJP's success at the 1998 national elections. As chief minister of Gujarat, he led a reinvention of his native state as an attractive corruption-free investment destination. He was rewarded with four reelections as Governor before his spectacular victory in the national elections.
Central to Modi's success will be his continued focus on competitive federalism.
Modi's anti-establishment background and maverick persona is central to his popularity. He is perceived as an outsider, providing a welcome departure from the stale Congress party politics of the Nehru-Gandhi dynasty that ruled India after independence.
On a personal level, he is regarded as empathetic and in tune with the needs of the nation. He is recognized as a doer who has already formulated and implemented a range of new reforms. This is no easy feat in such a massive and diverse country with numerous vested interests.
Article continues below advertisement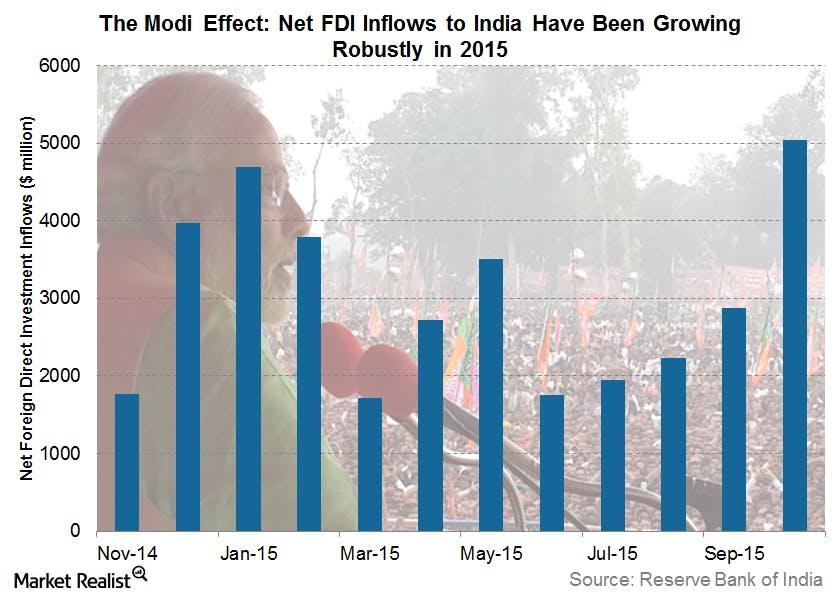 Market Realist – Global investors' perception of India has dramatically transformed in the last two years. This is largely due to the Modi effect. The frequent foreign trips of India's charismatic prime minister and his ambitious reform agenda have generated enormous global interest in the country.
Indian Prime Minister Narendra Modi has often been criticized for his frequent foreign trips. But they've put India (PIN) (IFN) back on the map for global investors. The Modi effect has spurred foreign inflows into India in a big way.
The above graph shows how net foreign direct investment inflows increased significantly in 2015. As reported by the Economic Times, India (EPI) (INDA) received a whopping $19.8 billion in foreign direct investment from the 12 countries Modi visited in fiscal 2014–2015. Foreign direct investment jumped 27% to $30.9 billion.