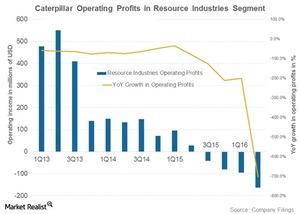 More Losses? Caterpillar Puts Part of Its Mining Business on Sale
Caterpillar's Resource Industries segment
In our earnings series on Caterpillar, we discussed how consolidation in the mining (PICK) equipment industry after the merger of Joy Global (JOY) and Komatsu could be negative for Caterpillar (CAT). There have been speculative reports that Volvo (VOLVY) might also by interested in buying out Joy Global.
Caterpillar logged four consecutive quarters of operating losses in the Resource Industries segment—it houses the mining equipment business. The segment's operating loss in 2Q16 was its largest in the last four quarters. Also, Caterpillar wasn't expecting to turn operating earnings positive in the Resource Industries segment at least until the end of fiscal 2016 or for another two quarters. In light of this grim situation, Caterpillar announced that it decided to prune its offerings in mining equipment on August 18, 2016.
Article continues below advertisement
Caterpillar's latest announcement
Caterpillar stated that it will discontinue the production of some of its equipment lines in underground mining. Most of these equipment lines serve the coal industry (KOL). The industry crashed as cheap gas and environmental regulations made coal less attractive for generating power. The company is exploring options to sell these lines. If it doesn't find a buyer, it intends to close its Houston plant—it manufactures coal hauling and harvesting equipment.
Job losses from Caterpillar's restructuring
As part of this restructuring initiative, Caterpillar stated that ~40 jobs will be cut from its Denison plant in Texas—it manufactures track drills for underground mining operations. In Houston, Pennsylvania, the company might shed up to 155 jobs depending on current end-market conditions. The company also announced the repurposing of its plant in Winston-Salem. Like other instances with bad timing, the plant was installed in 2011 to increase mining trucks' production capacity. Demand for these trucks fell by the wayside almost immediately after the plant opened. Caterpillar stated that it will shift component assembly for the railroad equipment business to Winston-Salem.