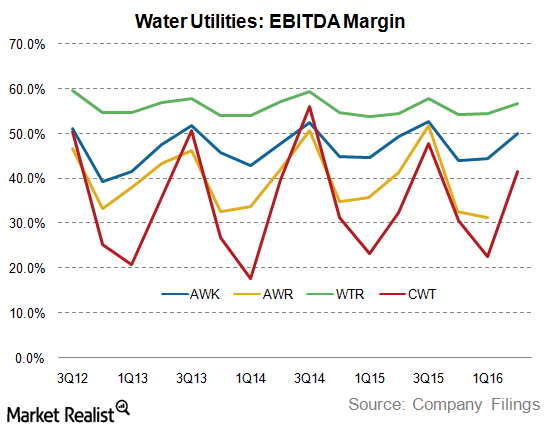 Behind the Earnings of US Water Utilities in 2016
US water utilities earnings
The US water utility companies we've been considering so far in this series are largely regulated utilities, and so for the most part, their consolidated earnings come from regulated operations.
US water utilities have experienced a cyclical but flat earnings growth pattern in the past couple of years. Specifically, lower water usage and increased efficiency practices have hampered the financial performance of water companies.
Article continues below advertisement
Water utilities' EBITDA margins
American Water Works (AWK) registered EBITDA (earnings before interest, tax, depreciation, and amortization) of $1.5 billion in 2015. For the past few years, AWK's earnings growth was ~7%, and its EBITDA margin averaged around 47%. During the same period, AWK's earnings were a positive surprise for investors.
Notably, the company generates nearly 85% of its total earnings from regulated operations while rest from its market-based operations. But most of AWK's infrastructure has been nearing its useful life, which means that replacements or maintenance costs could seriously put pressure on its earnings going forward.
By comparison, American States Water's (AWR) operating margins have improved during the past few quarters due to a fall in the company's operating costs. In 2015, AWR's EBITDA margin was 40%.
Water efficiency programs can seriously hamper water utilities' (FIW) financial performance. But we should note that the demand for fresh water is expected to increase significantly, considering its scarce resources, climate change, increasing population, and economic growth going forward.
Now let's discuss leverage.