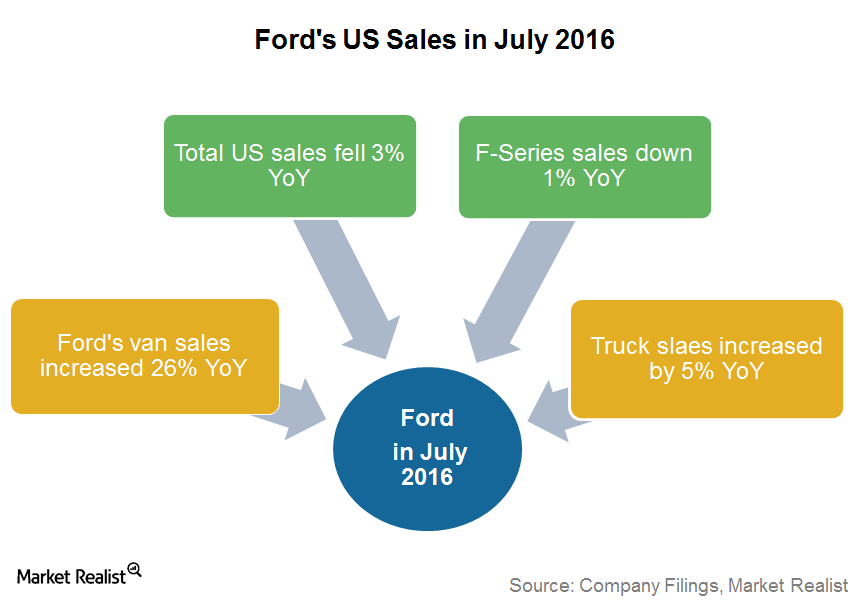 Is Ford Maintaining the Right Balance between Retail and Fleet Sales?
July vehicle sales
In July 2016, Ford Motor (F) reported ~3% YoY (year-over-year) decline in its home market total sales. The company managed to post a sales figure of 0.21 million vehicles on a month-on-month basis, but this was primarily due to Ford's declining retail sales.
In this part of our series, we'll take a closer look at Ford's July sales and explore how the company's falling retail vehicle sales could affect it going forward.
Article continues below advertisement
Article continues below advertisement
Retail versus fleet sales
In the auto industry, fleet sales can be defined as wholesale vehicle sales to rental car companies, government departments, and other private companies that use commercial vehicles. Fleet sales help automakers (VLUE) increase their revenues and market shares.
However, fleet vehicle sales typically tend to have lower margins than retail vehicle sales, so it's important for automakers to maintain the right balance between retail and fleet sales to protect both market share and profitability.
Ford's retail sales drop while fleet sales rise
In July 2016, Ford's fleet sales rose by 6% YoY to 55,321 units, whereas its retail vehicle sales fell by 6% YoY to 161,158 units during the same period.
However, despite the 1% decline in its F-series sales to 65,657 units, the company was able to post a 7% increase in its pickup truck and van sales in July. For automakers, trucks and vans typically yield higher margins than small cars yield. So in Ford's case, the higher pickup and van sales in July are likely to help the company protect its margins.
Peers and ATPs
We should note here that other mainstream automakers including General Motors (GM), Fiat Chrysler Automobiles (FCAU), and Toyota Motor (TM) also have a good presence in the US pickup truck and utility vehicle segments.
We should also note that in July 2016, Ford's ATP (average transaction price) increased by $1,600 per vehicle, and according to the company, this ATP was nearly double the industry average.
Now let's investigate General Motors' July 2016 sales.