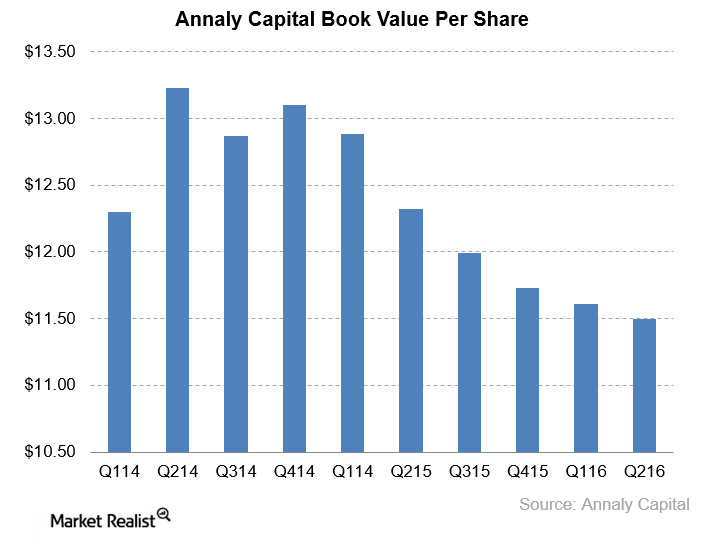 How's Annaly Capitalizing on Commercial Real Estate?
Annaly Capital's assets
Annaly Capital's (NLY) book value per share fell from $11.61 in the first quarter to $11.50 in the second quarter. The book value per share was $12.32 last year. Annaly Capital is trading at a sizable discount-to-book value. MBS (mortgage-backed securities) spreads widened during the quarter. All types of risk assets sold off based on deflation fears in Europe and a hard landing in China.
Agency MBS and the new Agency Credit Risk transfer bonds accounted for $67.3 billion of Annaly's $77.4 billion in assets. Annaly didn't make many changes to its agency portfolio. It's important to note that 92% of Annaly's agency portfolio consisted of fixed-rate securities. The rest consisted of adjustable-rate and floating MBS. The adjustable and floating-rate MBS have a much lower interest rate risk than the fixed-rate MBS. Investors who want to make interest rate bets directly can consider the iShares 20+ Year Treasury Bond ETF (TLT).
Article continues below advertisement
Commercial real estate investments
Commercial real estate investments accounted for $6.2 billion in assets. This number was a $0.1 billion decrease from the first quarter. By investing in commercial real estate, Annaly Capital is increasing its returns. At the same time, it's taking on credit risk. That being said, much of the commercial real estate debt is floating-rate debt. It provides a bit of a hedge. The average leveraged return on Annaly's commercial real estate portfolio was 7.6%. Over half of the commercial portfolio is multifamily properties.
Annaly wasn't the only mortgage REIT to maintain leverage this quarter. MFA Financial (MFA) increased as well, while American Capital Agency (AGNC) maintained its leverage. One way to protect against interest rate hikes is to invest in REITs that buy adjustable-rate MBS—like Capstead (CMO). Investors who want general exposure to the real estate sector should look at the iShares Mortgage Real Estate ETF (REM).