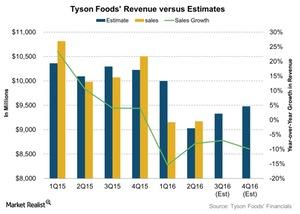 What Could Hamper Tyson Foods' Revenue in 3Q16?
Revenue will likely fall
Tyson Foods (TSN) is expected to report lower revenue of $9.33 billion in 3Q16. It indicates a YoY (year-over-year) decline of 7%. The export markets are expected to be challenged moderately in 2016. This could hamper the revenue.
Analysts expect a fall in revenue in 4Q16 as well. In 4Q16, it's projected to report lower revenue growth of 10%. The fiscal 2016 revenue is expected to be ~$37.15 billion—a fall of 10% YoY.
Article continues below advertisement
Expectations for 2016
Management's projection for sales remains intact at ~$37 billion for fiscal 2016. It includes the impact of fiscal 2015 divestitures and declining beef, pork, and feed prices. This would put pressure on the average selling prices for the products. Management expects its Prepared Foods segment to benefit the most in 2016.
Domestic protein production (chicken, beef, pork, and turkey) is estimated to increase ~2%–3% from the levels in fiscal 2015. This could put pressure on protein pricing. Export growth is expected to be moderate. Despite the fall in revenue, the company continues to execute its strategy of growing in value-added categories. Read Meat Producers Bank on Marketing and Innovation for Future Growth to learn more.
Peers' revenue expectations
Tyson's peers in the meat industry include Hormel Foods (HRL), Pilgrim's Pride (PPC), and Sanderson Farms (SAFM).
Hormel's revenue is expected to rise by 3% in fiscal 3Q16
Pilgrim's Pride's revenue in fiscal 3Q16 is projected to be comparable to fiscal 3Q15.
Sanderson Farms' revenue is projected to rise by 3% in fiscal 3Q16
The Guggenheim S&P 500 Equal Weight Consumer Staples ETF (RHS) and the AdvisorShares TrimTabs Float Shrink ETF (TTFS) invest 2.6% and 1.1%, respectively, of their portfolios in Tyson Foods' stock as of August 2.