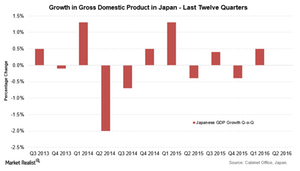 Japan's Economy Exhibits Flat Growth, Abe Feels the Pressure
By David Meyer

Updated
Japanese GDP releases below expectations
The Japanese economy showed no growth on a quarterly basis in 2Q16—compared to growth of 0.5% in the previous quarter and forecasts of a 0.2% expansion. The flat growth was primarily driven by a contraction in exports and capital expenditure in the economy combined with slow growth in consumption and government spending.
Consumer spending rose on a quarterly basis by 0.2% in the second quarter, while capital expenditure fell by 0.4%. External demand also fell on a quarterly basis in Japan by 0.3% in the second quarter. On an annual basis, the Japanese economy grew by 0.2% in 2Q16—compared to 2.0% growth in the previous quarter and expectations of a 0.7% rise. The iShares MSCI Japan (EWJ) and the WisdomTree Japan Hedged Equity (DXJ) rose by 0.65% and 0.48%, respectively, on August 15 at 2:30 PM EST.
Article continues below advertisement
Shinzo Abe is under pressure
Japanese Prime Minister Shinzo Abe is under pressure due to halted economic growth. The slow growth is due to weak export growth, slowing domestic demand, and a cut in spending. The Japanese economy is already plagued with deflationary pressures. The BoJ (Bank of Japan) has kept an ultra-eased monetary policy to pull up consumer prices. The BoJ has already announced a sizeable stimulus package, while interest rates are in the negative zone at -0.1%. The current scenario doesn't seem to designate a clear track towards achieving the inflation target of 2%. This increases speculations of more measures by the BoJ in the next monetary policy meeting. The Deutsche X-trackers MSCI Japan Hedged Equity (DBJP) and the iShares Currency Hedged MSCI Japan (HEWJ) rose by 0.62% on August 15 at 2:30 PM EST.
Industrial production continues to decline in Japan
Industrial production in Japan continued to decline in June. It fell by 1.5% on an annual basis. It was slightly better than expectations of a 1.9% decline and a fall of 0.4% in the previous month.
The release marks the seventh consecutive month of decline in industrial production in Japan. On a monthly basis, industrial production in Japan rose by 2.3% in June—compared to a 2.6% contraction in May and forecasts of 1.9% growth. While manufacturing and shipping activity increased, the rise was offset by a decline in mining activities. Japanese electronics maker Sony (SNE) was trading negatively by 0.12% on August 15 at 2:30 PM EST.