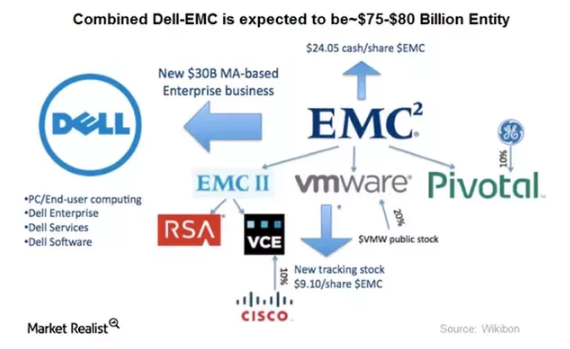 How the Dell-EMC Deal May Affect VMware's Future
<p>For the past year, uncertainty has been looming over VMware (VMW), primarily due to the impending Dell-EMC deal. EMC has an 80% stake and 97% of the voting rights in VMware.</p>
VMware ecosystem is expected to remain open after its integration with Dell Technologies
For the past year, uncertainty has been looming over VMware (VMW), primarily due to the impending Dell-EMC deal. After all, EMC has an 80% stake and 97% of the voting rights in VMware.
This uncertainty has been evident in VMware's stock prices. After trading at $82 in mid-October 2015, the stock fell to ~$44 in February 2016. However, as visibility increased with the Dell-EMC deal, market sentiment improved for VMware, and its stock recovered with occasional ups and downs. In mid-July 2016, EMC (EMC), after a long wait, announced that 98% of its shareholders voted in favor of merging with Dell.
The Dell-EMC deal worth $60 billion marks the largest deal ever in the technology space. This is $7 billion lower than what the deal was actually worth.
The newly formed company after the merger will function as Dell Technologies. VMware, RSA Security, and Virtustream will be part of Dell Technologies.
Article continues below advertisement
Article continues below advertisement
As is the case with most acquisitions, the primary question that comes to mind is how VMware's position and functioning will be after it's absorbed into Dell Technologies. Michael Dell, Dell's CEO (chief executive officer), addressed this issue at the VMworld 2016 conference, which is being held in Las Vegas from August 29–31, 2016. CRN.com, citing Dell, stated, "The open ecosystem of VMware is absolutely critical to its success. We're not going to change it."
Clearing doubts further about VMware's future after the merger, Dell stated, "We'll be focused on how to make it more powerful and deployable."
More clarity on EMC-Dell deal is expected in ongoing VMworld 2016 conference
As the above chart by Wikibon shows, Dell Technologies is expected to be a $75 billion–$80 billion entity. VMware will contribute approximately $6 billion. In August 2016, the Dell-EMC merger cleared its last hurdle by getting approval from China (FXI). Duringr the VMworld 2016 conference, the market will find out the timeline for when the Dell-EMC deal will become final and what its overall market impact will be.
You can consider investing in the SPDR S&P 500 ETF (SPY) to gain exposure to the technology sector. This ETF invests about 8.4% of its holdings in the application software space.