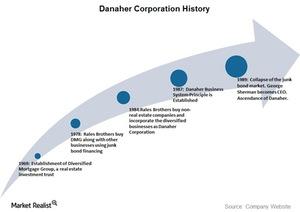 Danaher's Journey from Corporate Raider to Corporate Statesman
Diversified Mortgage Group
Danaher (DHR) was the brainchild of brothers Steven and Mitchell Rales. It was incorporated as a holding company in 1984. The company traces its origins to its predecessor Diversified Mortgage Group (or DMG), which was organized as an REIT (IYR) in 1969.
The Rales brothers used junk bond financing to buy DMG along with other diversified lines of businesses in 1979. DMG was restructured and renamed Diversified Mortgage Investors (or DMI) in the same year.
Article continues below advertisement
Origins of Danaher
In 1984, the company underwent a transformation after adding two non–real estate subsidiaries, and the Rales brothers renamed the company Danaher after their favorite creek in Montana where they went fishing.
In the early 1980s, the Rales brothers used DMI as a leveraged buyout vehicle and acquired more companies through hostile bids, greenmail, and more junk bond financing. This practice was mocked by Forbes magazine in 1985, when it called the Rales brothers "raiders in short pants" and their strategy "cocky to the point of foolishness."
"Raider" is a term used for financiers who make hostile takeover bids for companies either to control policies or to make a profit by reselling. However, the Rales brothers prevailed, and within two years of its founding, Danaher had acquired 12 companies, breaking into the Fortune 500 in 1986.
Danaher Business System
After the collapse of the junk bond market in 1989, the company hired then–executive vice president of Black & Decker (SWK) George Sherman as its CEO.
Danaher streamlined its subsidiaries and reduced its segments to transportation (XTN) products, instruments, and precision components. Along the lines of Toyota's (TM) lean manufacturing system, the company rigorously implemented the Danaher Business System it instituted in 1987.
The company stuck to its initial deal-making culture as well. As the years progressed, Danaher became a highly profitable entity and was rewarded by shareholders for its successful capital allocation strategy. In 2015, the company acquired Pall Corporation for $13.6 billion and broke the company into two separate, publicly traded entities.
Danaher retained the defensive medical businesses, whereas the newly created Fortive Corporation was handed over to the cyclical industrial (IYJ) businesses. Danaher, which started with annual revenue of $300 million in 1984, now earns sales of $22 billion per year.