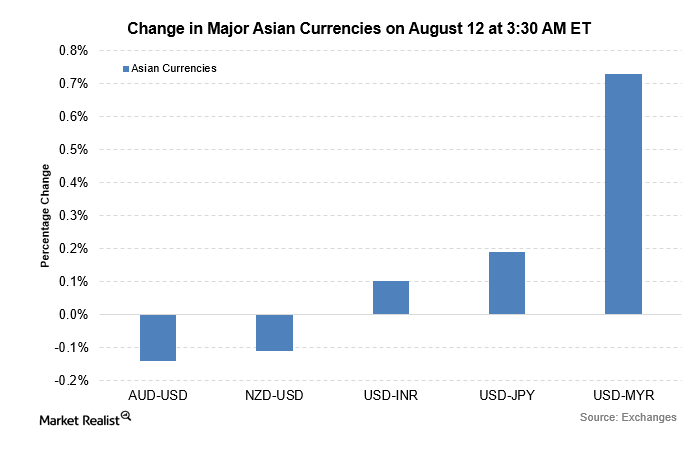 Notable Gainers and Losers among Major Currency Pairs
By David Meyer

Nov. 20 2020, Updated 4:44 p.m. ET
Ringgit was among the major losers
Major Asian currency pairs were trading on a negative bias against the US dollar on August 12, 2016. The US dollar broadly rose against the other currencies. Less pressure in other economies makes US-based assets including the US dollar a safer bet.
The Malaysian ringgit was among the major losers on August 12, despite crude oil prices (USO) posting significant gains over the past two days. The US dollar-Malaysian ringgit currency pair is struggling to break the strong technical and psychological support level of 4.0. Currently, it's trading at 4.02 levels. In terms of domestic data, Malaysian industrial production came out well above the forecast at 5.3%. It points to more signs of upcoming strength in the ringgit.
Article continues below advertisement
New Zealand's currency stabilizes
The Oceania currency pair was trading lower on August 12. The New Zealand dollar-US dollar pair fell by 0.12% as of 3:30 AM EST. Apart from the overall strengthening trend in the US dollar, the fall was also partly attributed to investors coming to terms with the Reserve Bank of New Zealand's monetary policy release on August 10. Read Why Did the RBNZ Decide to Cut the Official Cash Rate? for a more detailed analysis of the monetary policy release.
Why the ruble and real were on contrasting paths
The crude oil–driven currency pair, the US dollar-Russian (RSX) ruble, is inversely related to the ruble. The pair posted major gains on August 11. The rise of close to 4.2% in crude oil futures (UCO) proved to be a boon to the ruble. The currency pair fell by close to 0.86%.
For more details on the correlation between the ruble and crude oil, read Ruble and Crude in Near Perfect Synchronization.