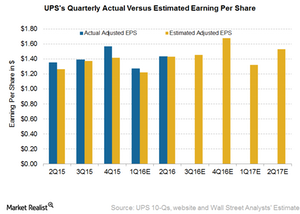 How Analysts Feel about United Parcel Service Post-2Q16
<p>In this article, we'll discuss what analysts are expecting for United Parcel Service (UPS) following its 2Q16 results.</p>
Analyst's recommendations for UPS
In this article, we'll discuss what analysts are expecting for United Parcel Service (UPS) following its 2Q16 results. The company has a mean rating of 3.56 and a consensus "hold" recommendation.
Out of the 25 analysts tracking UPS, eight analysts—or 32%—are advising investors to "buy" the company's stock. A majority of analysts—64%—are recommending "holds" on UPS's stock. Only one analyst is suggesting that investors "sell" their shares of the company.
Article continues below advertisement
Article continues below advertisement
Why most analysts have "hold" opinions
The most important point to note in this quarter's earnings was UPS's operating margin, which was virtually flat at 13.9%. The company's total revenue and the total operating expenses rose by 3.8% each. Thus, there was no actual margin for improvement in 2Q16.
The savings experienced by the company on account of oil prices in 1Q16 were virtually wiped out in 2Q16. According to the US Energy Information Administration, oil prices are expected to average $2.71 in 2017, compared to an average of $2.36 in 2016. This suggests no upside for oil prices in 2H16, possibly doing away with additional fuel surcharge revenues in the quarters to come.
With Brexit in the mix, the recent traffic increase from Europe to the United States may not continue much longer. With Britain poised to draft its own rules and regulations, uncertainty looms large over UPS's business growth in the region.
Analysts have pinned their hopes on the company's Supply Chain & Freight business, which has been witnessing strong growth. However, lower spot rates in the LTL (less-than-truckload) market coupled with reduced volumes could create an obstacle in the segment.
Analyst are closely watching UPS's gains from its productivity improvement measures. The company's technology platform ORION has helped it to reduce its driver miles. The company has also gained by building density, which has fueled its margin expansion via the enhanced growth of its SurePost and Access Point products.
ETF investment
Transportation and logistics companies form part of the industrial sector. The iShares U.S. Industrials ETF (IYJ) holds 2.8% in UPS. UPS's rival FDX makes up 1.5% of the portfolio holdings of IYJ.
Other major logistics stocks forming part of IYJ include Norfolk Southern (NSC), C.H. Robinson Worldwide (CHRW), and J.B. Hunt Transportation Services (JBHT).