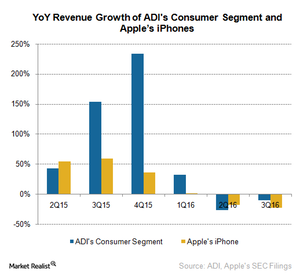 How Related Are ADI's Consumer Revenues and Apple's iPhone Sales?
By Puja Tayal

Nov. 20 2020, Updated 11:55 a.m. ET
Revenue by segment
Analog Devices (ADI) manufactures analog ICs (integrated circuits) that convert physical signals such as sound, light, heat, and pressure into digital information. These ICs are used in almost all devices that need to convert physical items into digital data, including smartphones, wearables, and cars. The company has divided its business into the following four major segments by end-market:
Industrial
Consumer
Communications Infrastructure
Automotive
We'll look at each of these segments in detail, starting with the Consumer segment.
Article continues below advertisement
Consumer's financial performance
ADI's Consumer segment is made up of its computing and mobile businesses, and Apple (AAPL) is its biggest customer. As you can see in the above graph, the consumer segment's revenue is directly proportional to Apple's iPhone sales. Fiscals 3Q and 4Q are seasonally strong for the Consumer segment because Apple starts the production of its flagship iPhone during that period.
In fiscal 2Q16 and 3Q16, the segment's revenue fell on a YoY (year-over-year) basis, after Apple reported a decline in iPhone sales. In fiscal 3Q16, the segment's revenue fell by 10% YoY to $186.1 million. However, things have revived, with the segment reporting 131% sequential growth in fiscal 3Q16.
This growth increased the segment's revenue share to 21% in fiscal 3Q16, as compared to 10% in fiscal 2Q16. This revenue growth is likely to continue in fiscal 4Q16 as well.
Role of iPhone 7 in ADI's consumer segment
Previously, ADI expected growth from the iPhone 7 to start sometime in July 2016, and it expected the dollar content of this phone to be greater than its predecessor, iPhone 6s. ADI's fiscal 3Q16 quarter ended on July 30, 2016, and it revised its earnings guidance for the quarter at the end of July 2016.
Meanwhile, another Apple supplier, Texas Instruments (TXN), did not report growth in its Personal Electronics segment, which caters to Apple, in its fiscal 2Q16 earnings (ended June 30, 2016). We can conclude that Apple's order for iPhone 7 components came in July 2016 and are hence reflected in ADI's earnings, though this isn't reflected in Texas Instruments' earnings. However, the orders might reflect in Texas Instruments' fiscal 3Q16 earnings (ending September 30, 2016).
Notably, the Consumer segment is a highly profitable segment for ADI. The strong sequential growth in the company's profit margins is partly a result of 131% sequential growth in the consumer market.
You can gain exposure in ADI by investing in the VanEck Vectors Semiconductor ETF (SMH), which has holdings in 26 semiconductor stocks, including ~4.3% in ADI and ~5.0% in TXN.
Now let's check out ADI's Automotive segment.