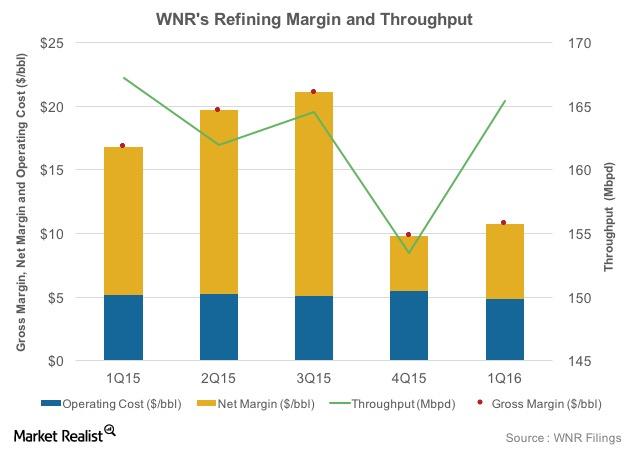 Will WNR's Refining Margin Trend Higher This Quarter?
WNR's refining margin
Western Refining (WNR) recorded a fall in gross refining margins, from $16.80 per barrel in 1Q15 to $10.80 per barrel in 1Q16. This was partly offset by a decline in operating costs by $0.30 per barrel in 1Q16 over 1Q15. Still, its net refining margin dropped steeply, from $11.70 per barrel in 1Q15 to $5.90 per barrel in 1Q16.
WNR's total refinery throughput also declined from 167 Mbpd (thousand barrels per day) in 1Q15 to 165 Mbpd in 1Q16.
Article continues below advertisement
Western Refining's peers also witnessed a fall in their refining margins in 1Q16 compared to 1Q15. Marathon Petroleum (MPC), Valero Energy (VLO), and HollyFrontier (HFC) saw their gross refining margins narrow by $6.20, $4.40, and $9.10 per barrel to $10.00, $8.00, and $7.60 per barrel in 1Q16, respectively, as compared to 1Q15.
The PowerShares Dynamic Large Cap Value ETF (PWV) has ~5% exposure to energy sector stocks.
WNR's refining margin outlook for 2Q16
In 2Q16, Western Refining (WNR) is likely to witness better refining margins compared to 1Q16. This is due to the fact that cracks have improved in the second quarter. This is reflected in the strength of the refining margin indicators of the American oil refining companies in 2Q16 over 1Q16.
For example, Tesoro Corporation's (TSO) refining index values stood higher in all the three zones in 2Q16 over 1Q16. VLO's and MPC's refining margin indicators witnessed improvement in 2Q16 over 1Q16.
However, on a yearly basis, margin indicators of these companies have shown weakness. For more on the refining margin trend in 2Q16, please refer to Predicting 2Q16 Refiner Profitability: Parsing Refining Margins.