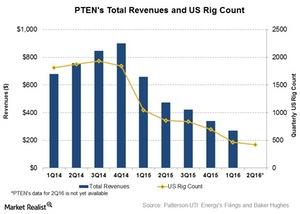 Will Rig Count Affect Patterson-UTI Energy in 2Q16?
Revenue growth
Patterson-UTI Energy (PTEN) primarily generates its revenues in the US. In the past year, Patterson-UTI Energy's revenue has come down. In 1Q16, PTEN's revenue decreased 59% over 1Q15.
Baker Hughes's (BHI) 1Q16 revenue from North America also fell by 59% over 1Q15.
PTEN comprises only 0.57% of the WisdomTree SmallCap Dividend ETF (DES). The energy sector makes up 4.3% of DES.
Article continues below advertisement
Article continues below advertisement
US rig count
In 1Q16, the US rig count declined by 56% over 1Q15. During this period, the international rig count decreased by only 21%.
From March 31–June 30, 2016, the US rig count further declined by 9%, while the international rig count fell by 3% during the same period. A lower US rig count can decrease PTEN's revenues and earnings in 2Q16.
Other factors that can affect PTEN's results include energy prices, contract drilling rates, rig utilization, and excess availability of land drilling rigs and pressure pumping equipment.
Next, we will discuss Patterson-UTI Energy's value drivers.