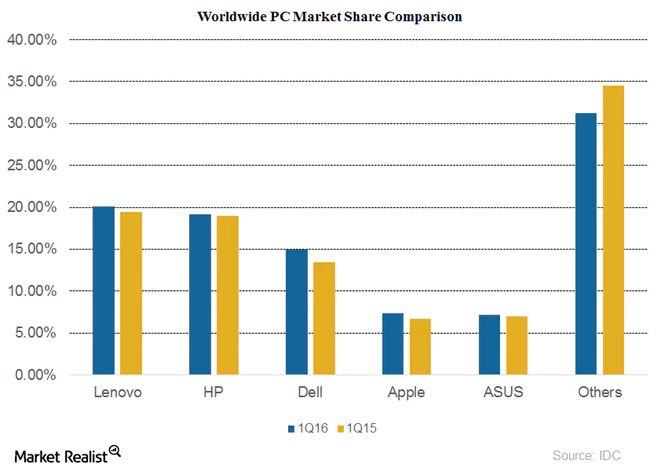 How Will Dell Benefit from the Merger with EMC?
Dell struggling with declining sales in the PC segment
According to market research firm IDC, the PC (personal computer) segment has been witnessing sluggish sales in the last 18 months. This is due to increasing LTE (long-term evolution) and smartphone penetration in developed economies as well as emerging markets such as China and India.
China's (FXI) Lenovo (LNVGY) was the leading PC manufacturer and saw PC shipments fall 8.5% YoY (year-over-year) to 12.1 million units in 1Q16. It accounted for 20% of the overall market. HP (HPQ) was in second place with a 19.2% share and shipments of 11.6 million units. Dell continued to remain the third-largest manufacturer with PC shipments of 9 million units and a 14.9% share.
Dell's shipments fell by 2% YoY in 1Q16. However, Dell led the market in the United States with a share of 25.6%, compared to 23.1% in 1Q15. US shipments also rose 4.2% YoY to 3.4 million units in 1Q16.
IDC expects PC sales to remain weak in the first half of 2016 but to pick up in the second half of the year.
The PC market slowdown forced IBM (IBM) to sell its PC business and HP (HPQ) to split its computer and printer businesses.
Article continues below advertisement
Article continues below advertisement
Synergies of over $2 billion
Last year, Dell said it anticipates roughly $2 billion in revenue synergies from the EMC transaction. Revenue synergies basically mean that Dell hopes to sell EMC's solutions to some of its customers. This will put Dell more in line with big enterprise players like Hewlett Packard Enterprise (HPE) and IBM.