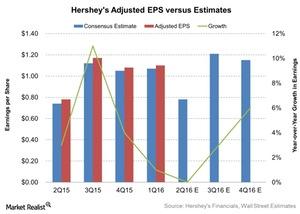 Why Hershey's Earnings Could Have Been Pressured in 2Q16
Earnings expectations
Let's now discuss analysts' 2Q16 EPS (earnings per share) estimates for Hershey (HSY) as well as management's outlook for 2016. Analysts expect Hershey's adjusted EPS to be $0.78, which is in line with 2Q15 EPS. This estimate implies no growth in earnings after showing positive YoY earnings growth in the last four quarters. The company even beat analysts' estimates in the last four quarters. The trend suggests earnings will exceed expectations this quarter as well.
Article continues below advertisement
Article continues below advertisement
Outlook for 2016
Hershey expects adjusted EPS to be slightly pressured during the second quarter owing to higher advertising and consumer marketing expenses. However, for the full year, the company expects adjusted earnings per share to increase by 3% to 4%, including dilution from acquisitions of $0.05 to $0.06 per share. Analysts expect EPS to be in the $4.24 to $4.28 range. The earnings increase is projected to be driven by the business productivity initiative announced in June and the incremental CIP savings.
Management mentioned that it expects to exceed its initial 2016 productivity and savings target by $10 million to $15 million. Management projects cost optimization across all segments of the business will allow it to generate program savings. This focus on cost structure let the company exceed its first quarter earnings expectations with year-over-year EPS growth.
Analysts expect earnings to show slightly higher growth in the second half of 2016. They estimate earnings growth of 3% and 6% for 3Q16 and 4Q16, respectively. For the full year of fiscal 2016, analysts expect earnings to be $4.24, an increase of 3% compared to $4.12 in fiscal 2015.
Earnings estimate for peers
Hershey's peers in the industry include Mondelez (MDLZ), Kellogg (K), and Kraft Heinz (KHC).
Mondelez's EPS for fiscal 2Q16 is expected to fall by 15%.
Kellogg's EPS for fiscal 2Q16 is projected to fall by 1%.
Kraft Heinz's EPS for 2Q16 is estimated to rise by 18%.
To gain exposure to Hershey, you can invest in the PowerShares S&P 500 Quality Portfolio (SPHQ) and the Vanguard Consumer Staples ETF (VDC). They invest 1% of their combined holdings in the stock.