What's the Root Cause of Marvell's Problems?
Let's dig into the cause of Marvell's accounting issues, see how one thing led to another, and look at how its new management plans to untangle the chaos.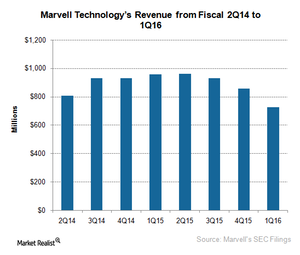 Root cause of Marvell's problems
In the previous part of the series, we saw that Marvell Technology (MRVL) is surrounded by several accounting, management, and legal issues.
Let's dig into the cause of the problem, see how one thing led to another, and look at how the company's new management plans to untangle the chaos.
Article continues below advertisement
Article continues below advertisement
Marvell's revenue trend
2015 was a stressful year for semiconductor companies with high exposures to the PC (personal computer) and HDD (hard disk drives) markets.
Marvell sells storage, networking, and mobile and wireless devices to a few large customers, including Western Digital (WDC), Seagate (STX), and Toshiba (TOSBF). All three of these customers posted losses in 2015 as HDD shipments fell by 17% YoY (year-over-year) due to a fall in PC sales, according to AnandTech. Western Digital acquired SanDisk (SNDK) to grow in the SSD (solid state drive) market.
As seen in the above graph, revenues have been falling since fiscal 3Q15 as the storage business, the company's largest revenue contributor, was hit by weakness in HDD shipments.
Fiscal 2Q16 earnings
On September 11, 2015, Marvel announced a delay in the reporting of its fiscal 2Q16 results ended August 2015 due to an internal investigation of its earnings. However, it stated that it was likely to report a loss of $382.4 million for the quarter, much different from analysts' consensus estimate of $11.9 million in profit.
Marvell's board didn't provide any guidance for fiscal 3Q16, as it was reviewing "the effectiveness of internal control over financial reporting" in the company.
This caused a wave of uncertainty among investors, and the company's shares fell by ~17% after the announcement.
Article continues below advertisement
Internal investigation
The internal investigation focused on two main points. There was concern that up to 8% of the company's revenue recognized in fiscal 2Q16 was actually supposed to have been realized in fiscal 3Q16. The investigation concluded that the revenue recognition was correct but that there had been "significant pressure" from management to improve sales.
This raised questions about the management's operating style and brought it under investigation. The company stated that the internal audit committee was reviewing "any associated issues with senior management's operating style during the period resulted in an open flow of information and communication to set an appropriate tone for an effective control environment."
The company hasn't reported earnings beyond fiscal 1Q16 ended May 2, 2015. Next, we'll take a look at the state of Marvell's earnings in fiscal 3Q16. You can gain exposure to Marvell's customers by investing in the PowerShares QQQ Trust, Series 1 ETF (QQQ). QQQ has 8.7% holdings in semiconductor stocks. It has 0.14% exposure to STX and 0.25% exposure to WDC.