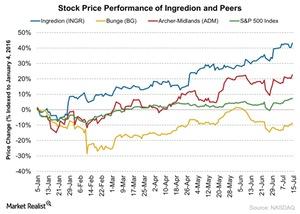 What's behind Ingredion's Impressive 2016 Stock Prices?
Ingredion's stock performance
Ingredion (INGR), an Illinois-based processed and packaged food company, is set to report its fiscal 2Q16 results before the Market opens on July 28, 2016. So far in 2016, Ingredion stock has risen 43%.
Its impressive performance the last two quarters has boosted the stock. We'll have to wait and see if strong 2Q16 results can further benefit the stock.
Ingredion stock has risen 16% since its fiscal 1Q16 earnings release on May 3, 2016. The stock reacted positively to a strong start to 2016 and rose 6% that day. The company delivered exceptional year-over-year growth in earnings and also mentioned its positive raised guidance for 2016.
The stock reacted positively to the earnings results for all the quarters in 2015. It rose 13% in 2015. Ingredion has outperformed the Market, as represented by the S&P 500 Index, by 36% year-to-date as of July 15, 2016.
Article continues below advertisement
Peer stock performances
Ingredion is part of the processed and packaged food industry. Along with its four geographic segments, the company manufactures and sells starches and sweeteners to various industries. Ingredion's peer Bunge (BG) has fallen by 9% so far in 2016. Archer-Daniels Midland (ADM) has returned 23%.
Bunge, Archer-Daniels Midland, and ConAgra closed at $132.84, $61.05, and $43.95, respectively, on July 15, 2016. The SPDR S&P 400 Mid Cap Value ETF (MDYV) and the SPDR S&P 400 Mid Cap Growth ETF (MDYG) invest 0.67% and 0.60%, respectively, in Ingredion.
What we'll look at in this series
In this pre-earning series, we'll see what to expect in Ingredion's upcoming fiscal 2Q16 earnings release. But first, we'll do a quick recap of its last quarter's performance. We'll look at analysts' estimates for revenue, revenue growth drivers, and earnings for 2Q16.
We'll also see what might cause earnings to keep increasing in 2016. Finally, we'll look at Ingredion's recent dividends and stock price target over the next 12 months as well as its moving averages.
Let's start with Ingredion's performance in its last reported quarter, fiscal 1Q16.