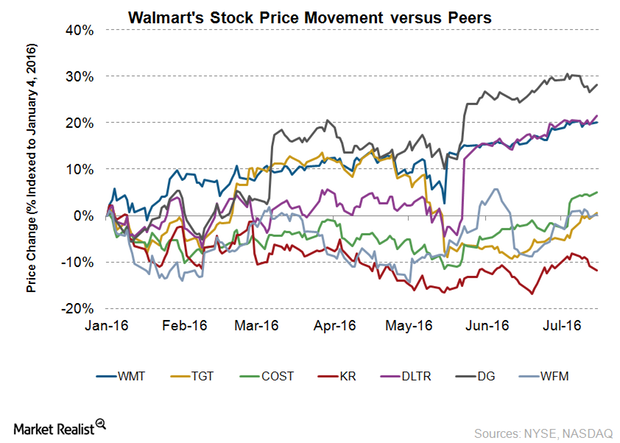 Walmart's Stock Rises 20% Year-to-Date: Can It Rise More?
Walmart's stock rises 20% in 2016
The stock price of retail giant Walmart (WMT) has risen by 20.1% on a YTD (year-to-date) basis to $73.84, as of July 18. Walmart's stock has risen by 6.7% since the announcement of its fiscal 1Q17 results in May. Walmart's stock has outperformed the S&P 500 Index, which has risen 7.7% on a YTD basis.
On a YTD basis, the stocks of Walmart's peers Target (TGT), Costco Wholesale (COST), Kroger (KG), Dollar Tree (DLTR), Dollar General (DG), and Whole Foods Market (WFM) have seen the following price movements: 0.6%, 5%, -11.7%, 21.5%, 28.2%, and 0.3%, respectively.
Article continues below advertisement
Recap of fiscal 1Q17 performance
Walmart's stock rose 9.6% on May 19 in reaction to better-than-expected results for fiscal 1Q17, which ended on April 30, 2016. Walmart delivered adjusted EPS (earnings per share) of $0.98 in fiscal 1Q17, exceeding Wall Street analysts' consensus estimate of $0.88. However, the company's adjusted EPS declined by 4.9% in fiscal 1Q17, marking the fifth straight quarter in which earnings fell. Currency headwinds and Walmart's planned investments in its workforce and technology adversely impacted the company's fiscal 1Q17 bottom line. Walmart's fiscal 1Q17 revenue increased by 0.9% to $115.9 billion, exceeding analysts' estimate of $113.2 billion. The iShares Global Consumer Staples ETF (KXI) has 3.1% exposure to Walmart.
Walmart is scheduled to announce its fiscal 2Q17 results on August 18. Based on the guidance issued in May 2016, the company expects its fiscal 2Q17 adjusted EPS will be in the range of $0.95–$1.08. This estimate compares to adjusted EPS of $1.08 in fiscal 2Q16. Currently, analysts expect Walmart's 2Q17 adjusted EPS to fall by 5.6% to $1.02. Lower-than-expected fiscal 2Q17 results might adversely impact the company's stock price. We'll discuss analysts' recommendations and the 12-month target price for Walmart's stock in part five of this series.
Series overview
In this series on Walmart, we'll discuss the company's efforts to improve its sales and enhance its online capabilities. We'll also discuss the company's productivity efforts. In part five of this series, we'll look at total shareholder returns delivered by Walmart's stock and analysts' ratings for the stock. In the concluding part of this series, we'll assess the company's valuation.