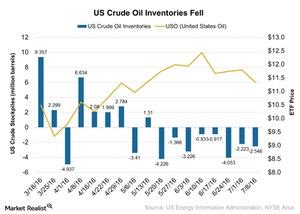 US Crude Oil Inventories Fell for the 8th Week: What It Means
US crude oil inventories fell by 2.5 million barrels
According to the EIA's (U.S. Energy Information Administration) report on July 13, 2016, US crude oil inventories fell by 2.5 MMbbls (million barrels) in the week ended July 8, 2016, compared to a fall of 2.2 MMbbls in the previous week.
The Market expected a fall of 3.0 MMbbls, so the fall didn't quite meet expectations. Inventories fell for the eighth consecutive week.
Article continues below advertisement
What the crude oil movement indicates
In the last two weeks, crude oil (UWTI) (BNO) prices have been subdued due to smaller draws on inventories compared to estimates. Inventories fell by 2.2 MMbbls (million barrels) compared to analysts' consensus estimate of 2.3 MMbbls for the week ended July 1, 2016. Traders were expecting a large draw on oil inventories in the summer driving season.
The stronger US dollar (UUP) could hamper the movements of crude oil, as commodity prices are dollar-denominated assets. If the Federal Reserve hikes interest rates in its next monetary policy meeting, it may harm the movements of crude oil.
In the next part of this series, we'll analyze China's industrial production performance in June 2016.