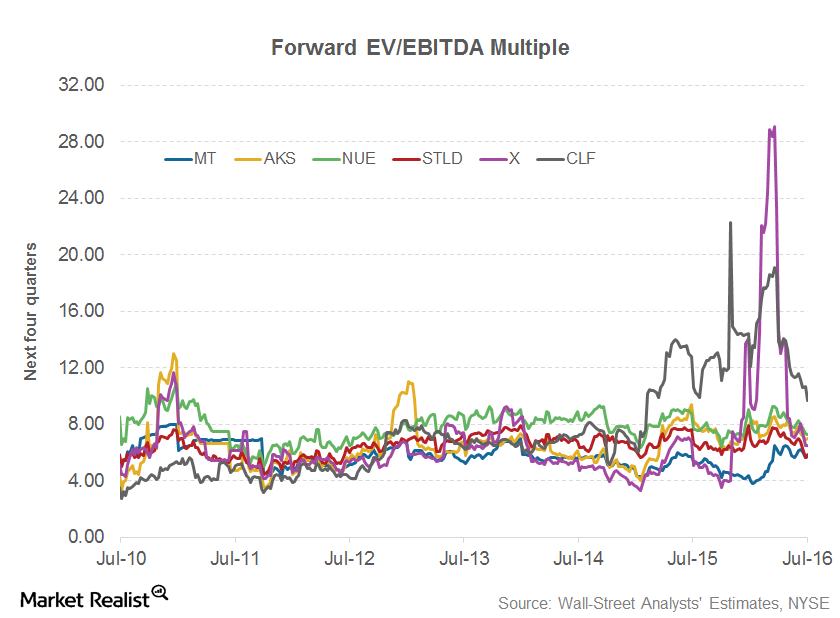 Could There Be More Upside to Cliffs Natural Resources' Valuation?
Valuations
Valuation multiples are key metrics that investors consider carefully. With the help of relative valuations, we can compare a company's valuation with its closest peers' valuations. There are several valuation metrics that we can use.
For companies in cyclical industries such as steel and mining, the EV-to-EBITDA (enterprise value to earnings before interest, taxes, depreciation, and amortization) multiple is the preferred valuation metric. The forward EV-to-EBITDA multiple tells us how a company is valued for each dollar of EBITDA.
Article continues below advertisement
Premium valuations
The graph above shows the forward EV-to-EBITDA multiples of different steel companies, some of which have captive iron ore mines. U.S. Steel (X) is trading at a substantial premium to its long-term trading multiples. Nucor (NUE), Steel Dynamics (STLD), and AK Steel (AKS) are also trading at a premium to their long-term trading multiples. Cliffs Natural Resources (CLF) is trading at a forward EV-to-EBITDA multiple of 9.6x compared with its last five-year average of 8.0x. While Cliffs might look expensive, it's important to note that the company went through one of its worst phases in the last two to three years due to ill-timed investments, which led to burgeoning debt and losses.
Investors should also note that the stock had started looking even more expensive as its share price gained strength while estimates weren't revised higher. However, with the consequent revision in estimates in the last three to four months, the multiple has now come down.
Is Cliffs's valuation justified?
Investors should also consider that even after the current 234% rise in Cliffs's share price year-to-date, its price has only reached the level it was at last June when the US steel prices were 40% lower as compared to the current level. Investors should note that for commodity (GCC) companies, valuation multiples tend to peak when the economic cycle is about to take a turn for the better.
In its upcoming 2Q16 results, management's commentary regarding the growth trajectory in the form of DRI (direct reduced iron) or further debt reduction plans could act as a catalyst to drive its multiple even higher.
Cliffs will release its 2Q16 results on July 28 before markets open. Before that, we'll publish an earnings preview to discuss what's expected from the company for the quarter. For previews and the latest updates on the iron ore sector, be sure to keep an eye on Market Realist's Iron Ore page.