Understanding Zipcar's Business Model
Founded in 2000, Zipcar was one of the car-sharing industry's early entrants.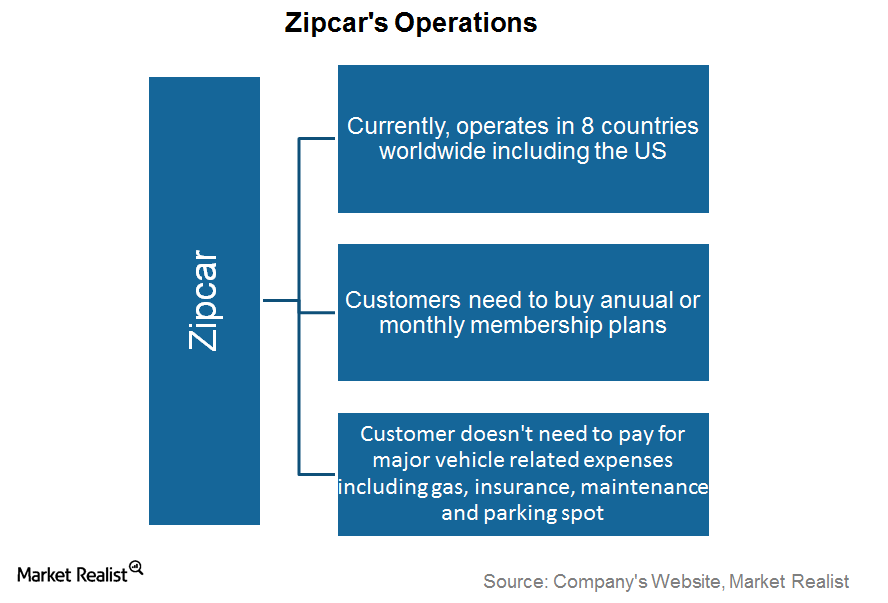 Zipcar
Previously, we looked at the future growth potential of the car-sharing business and the different services car-sharing companies provide. Zipcar is a leading car-sharing company. The company is based in Cambridge, Massachusetts. Founded in 2000, it was one of the car-sharing industry's early entrants. The company was acquired by Avis Budget Group (CAR) in 2013 in a ~$500 million cash deal. Let's take a look at Zipcar's business and operations.
Article continues below advertisement
Article continues below advertisement
Zipcar's operations
Currently, Zipcar provides mobile-application-based on-demand mobility services in eight countries. These countries include the United States, Canada, the United Kingdom, Spain, Austria, France, Germany, and Turkey. According to the company's website, it "operates in over 30 major metro markets, at over 500 college campuses, and at over 50 airports."
Zipcar membership
To use Zipcar services, customers need to purchase its monthly or annual membership plan. After the purchase, customers receive a membership card that allows members to access Zipcar vehicles. As an alternative, customers can also use the Zipcar mobile application to get access to the vehicles, which are typically parked in spaces throughout cities.
The company also takes care of major vehicle-related expenses including gas, insurance, maintenance, and parking. Customers can choose to pay on an hourly or daily basis, depending on their need. Currently, the company charges $70 per year or $7 per month for a membership, excluding $8.25 per hour for each trip.
Types of vehicles offered
Zipcar is able to expand its presence in key markets due to the variety of vehicles it offers. Currently, the company offers over 50 different makes and models. These vehicles include hybrids, SUVs (sport utility vehicles), pickup trucks, luxury vehicles, minivans, and cargo vans.
In the last several years, many mainstream automakers (IYK), including General Motors (GM), Daimler (DDAIF), and Volkswagen (VLKAY), have entered the car-sharing business. Continue on to the next article to learn more about another car-sharing company, car2go.