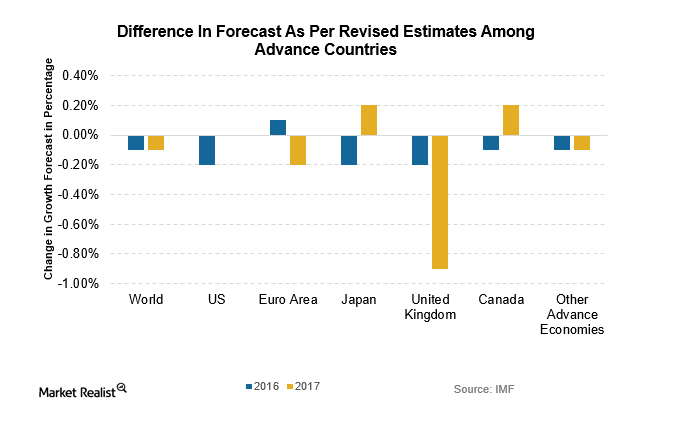 Why Were the United Kingdom's Growth Forecasts Slashed?
UK 2017 growth forecasts slashed by 0.9%
The IMF's (International Monetary Fund) forecasts for advanced economies got worse compared to the emerging market and developing economies. The fall in advanced economies was led by the United Kingdom. It suffered the biggest revision among the advanced economies—compared to the earlier forecasts. The 2016 growth has been revised down by 0.2% with the Brexit vote happening half way through the year and most of the earlier forecasted growth half way through.
The revision was evident in the 2017 forecasts—they fell by close to 1%. They fell from 2.2% in the earlier forecasts to 1.3%, according to the new forecasts.
Article continues below advertisement
Falling growth in other advanced economies
Looking at the change in growth forecasts in advanced economies, the United Kingdom suffered the largest downward revision of estimates. In the US, the first quarter growth was weaker than expected. This triggered a downward revision by the IMF in its 2016 forecasts. The IMF doesn't expect the United Kingdom's exit to have a major impact on the US. It maintained its 2017 forecasts. In contrast, the Eurozone (EUO) (DBEU) saw better-than-expected growth in the first quarter. It called for an upward revision in 2016, but the Brexit vote is expected to have a major impact in the Eurozone. There's a downward revision in the 2017 forecasts.