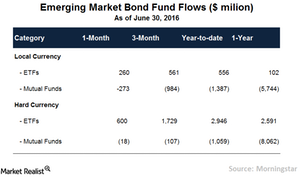 Time to Look at Emerging Market Debt
<p>Global emerging markets (&#8220;EM&#8221;) debt, both hard and local currency, rebounded strongly in June after a significant retracement in May.</p>
Global emerging markets ("EM") debt, both hard and local currency, rebounded strongly in June after a significant retracement in May. One of the main drivers behind the resumption of the EM debt rally was yet another shift in interest rate expectations, following a very weak U.S. employment release on June 3. The U.K. Brexit vote on June 23 was an even more significant event, one that placed a very large exclamation point on the renewed expectations for "lower for longer."
Article continues below advertisement
Article continues below advertisement
Market Realist – Emerging markets rebounded in June
In the last few years, emerging market debt (EMLC)(HYEM) has attracted a lot of attention from investors as a better and higher-yielding alternative. As you can see in the chart below, investors generally favor hard-currency emerging market bonds, though local currency bonds are also in demand lately.
The demand for EM debt rose especially in June after fears of an interest rate hike largely subsided. The JPMorgan Emerging Market Bond Total Return Index, which was down 0.3% in May, rebounded 5.5% since June. Year-to-date, the index is up 12.8% while its local-currency peer, GBI-EM, is up around 14%. The higher demand for emerging market government bonds (EMB)(VWOB) has pushed prices higher while pulling down the yield on J.P. Morgan's dollar-denominated index to a six-month low of 5.89%.
The higher demand for EM bonds (PCY) has led to a surge in fund flows into emerging markets. In June, hard-currency emerging market ETFs received a fund inflow of $600 million while local currency ETFs witnessed a fund inflow of $260 million. According to J.P. Morgan, fund inflows into emerging markets bonds and stocks amounted to $10.2 billion in the week ended July 20, the second-largest amount to date. Investors are taking comfort from the fact that central bankers in the developed world will likely support global growth for an extended period.